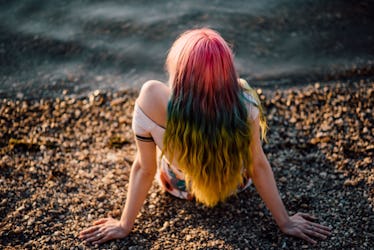 Women Reveal How They Knew Marriage Wasn't For Them, Because You Don't Have To Say "I Do"
I have a bone to pick with an irritatingly persistent female stereotype — you know, the one that suggests all women fantasize about their wedding day for their entire lives, dreaming up the dress they'll say "I do" in and playing house as they envision their own happy ending. There's nothing wrong with this fantasy, but guess what? Not all women want to get married. In fact, after doing a quick Reddit, I discovered that there are dozens of ladies and femme-identifying people who have absolutely no interest in tying the knot. How do you know if marriage isn't for you? Like these women, you'll be perfectly content to pursue romantic relationships without feeling eager to put a ring on it.
And the reality is, relationships can be just as rewarding without a legally binding document. Provided you're with the right person, you can experience the same range of feelings and fulfillment, and hit many of the same momentous milestones, too. Also, you can still achieve the same level of deep commitment to each other, regardless of the fact that you haven't exchanged rings.
There are many reasons why someone might opt to dodge marriage. They may simply not believe in it — or at least not believe that it can work for them. Or, they may have witnessed too many marriage failures that have left them jaded. Alternatively, they might just feel confident enough in their romantic bond without needing to exchange vows with their partner. Here's what seven women had to say about how they knew marriage merely wasn't for them.