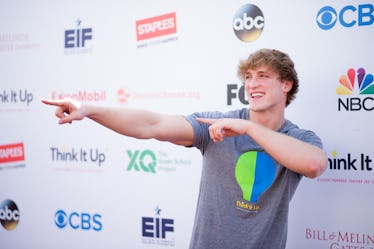 This Is How Logan Paul Got Famous, In Case You Actually Want To Know More About Him
Handout/Getty Images Entertainment/Getty Images
All of the Logan Paul news lately has given me a major headache. I had never heard of him before his controversy, and now it feels like I can't go more than a few days without him popping up in my news feed or my Twitter moments. Based on the content that I have seen of his, I have to wonder: how did Logan Paul get famous?
Like many of today's internet personalities, Paul got his start on Vine. Vine, a shining beacon of all that is good in the world, was at its peak when Paul was a freshman engineering student at Ohio University in 2014. He and his brother, Jake, both began to attract major followings on the platform; a YouTube compilation of Paul's Vines has over 16 million views, and as of the app's shutdown, he had 9.4 million followers. Most of his Vines involve him pulling pranks, engaging in physical stunts, making a fool of himself in public, and lots of yelling. It's worth noting that a fair number of them also include racist undertones, as NextShark pointed out.
Because of his popularity on the app, Paul decided to drop out of Ohio University and move to Los Angeles, California in 2014 to continue capitalizing on and expanding his newfound fame. Through Vine, he was able to partner with a number of major brands, including Pepsi, HBO, Virgin Mobile and Ritz, which is how he began to make serious money. In 2015, Paul was number 10 on a list of top 15 most influential Vine stars, per Business Insider.
Unfortunately (or maybe fortunately), as we all know, the app eventually folded. But like many ex-Viners, both brothers successfully transitioned to YouTube as the main platform for their content. Starting on Sept. 12, 2016, Paul began vlogging every day and did so until Jan. 1, 2018. To this day, YouTube remains Paul's most-used and probably most well-known platform. Currently, his main channel, TheOfficialLoganPaul, has almost 4.5 million subscribers. His vlog channel, Logan Paul Vlogs, has over 16 million subscribers.
He has also begun to expand into long-form entertainment, thanks to acting classes. He has appeared in Law and Order: Special Victims Unit, Fox's Weird Loners, Freeform's Stitchers, and the YouTube Red movies The Thinning and The Space Between Us.
However, despite his serious following, not everyone appreciates Paul's brand of humor or rise to fame. In a Quora post pondering how he and his brother got so famous, one user responded, "Because their crass humour and abysmal content appeals to the lowest common denominator, which forms a bulk of YouTube's audience. Therefore, stupid stars like the Paul brothers are YouTube's bread and butter."
His popularity on Vine and YouTube has allowed him to get into a number of other revenue generators. He frequently creates content for Instagram and Facebook as well, and he has around 16 million followers on each platform. Additionally, Paul started his own clothing line, Maverick, which brings in millions of dollars a month for the 22-year-old, per Forbes.
In early January, Paul became the center of a major controversy after he posted a video from Japan's Aokigahara Forest, otherwise known as the "Suicide Forest." The video featured footage of an apparent suicide victim and received serious backlash from a number of prominent entertainers, including Aaron Paul, Sophie Turner, and Anna Akana. Paul has since apologized twice for his actions and has been removed from YouTube's Google Preferred ad platform. He is currently taking a social media hiatus. We'll have to see where he goes next.
Check out the entire Gen Why series and other videos on Facebook and the Bustle app across Apple TV, Roku, and Amazon Fire TV.