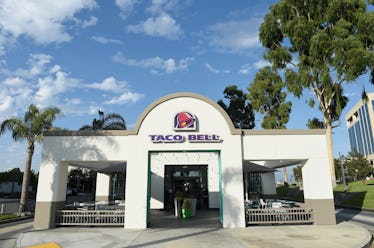 Taco Bell's New Candy Quesadilla Is Here Just In Time For Halloween
Joshua Blanchard/Getty Images Entertainment/Getty Images
Taco Bell enthusiasts have been blessed with a ton of new releases and brand collaborations this year. Their latest creation? A chocolatey dessert quesadilla that comes just in time for the Halloween season. Want to know how you can get your hands on the sweet treat? We're here to tell you how to get Taco Bell's Chocoladilla.
But first, what exactly is the "Chocoladilla? It's a tortilla stuffed with Kit Kats and grilled, to make it melty. So basically, it's Taco Bell's answer to the chocolate crepe. As a Kit-Kat enthusiast myself (I usually enjoy mine fun-sized and frozen) this is amazing news. Just thinking about the warm melted milk chocolate and crunchy wafer wrapped in a portable crispy tortilla makes me want to run to my local deli and buy the ingredients to test this recipe out for myself.
Sadly, the Chocoladilla is currently being tested in select locations in Wisconsin only, according to Business Insider. (There have also been reports that a Twix version of the treat is being tested in a few locations as well.) Nevertheless, news of this release has gotten a ton of attention on social media. And with the Chocoladilla only going for one dollar, I don't blame people for the hype.
This isn't the first time that the Chocoladilla has appeared in Taco Bell locations; the sweet quesadilla was tested in locations across the UK at around the same time last year, according to Brand Eating. And we can only assume that the response was positive, given that they're repeating the process across the pond.
This candy addition to the menu is also perfectly timed, with Halloween just around the corner. Who knows, maybe we will see a surprise spooky release on the 31st? Or maybe we'll be able to trick-or-treat at Taco Bell and get a free Chocoladilla in celebration of the holiday? One can only hope.
While there is no official announcement whether the Kit Kat Chocoladilla will be available nationwide yet, the internet's reaction to the treat makes the hopes of this more likely. Twitter users have been asking the chain via Twitter where they can get their hands on a Chocoladilla (Taco Bell states that they are available in Milwaukee restaurants), and asking friends who live in Wisconsin for reviews of the latest menu item.
This year has already been huge for Taco Bell fans. Not only has the Tex-Mex inspired chain released a slew of new menu items, they've collaborated with Forever 21 on an exclusive clothing line, and partnered with Lyft to create "Taco Mode," which lets you stop by your nearest Taco Bell to pick up necessary refreshments after a long night out.
This year also saw the grand opening of the first Taco Bell Cantina in Las Vegas. The flagship location is the first of its kind in Taco Bell's history, and offers alcohol-infused slushies and exclusive sharable plates that are exclusive to the Vegas venue. The 24-hour restaurant also features a DJ booth and exclusive VIP lounge. And the crazy features don't stop there — the Cantina also offers a $600 Taco Bell-themed wedding package for serious, serious fans. So if you're a hardcore Taco Bell lover, it's basically a one-stop shop for living más.
Because of the social media buzz, hopes of the Chocoladilla hitting Taco Bell locations nationwide is definitely high.
Not only has the hype gotten the attention of fans of the restaurant chain, it seems that Taco Bell executives are getting the memo as well. Taco Bell spokeswoman Emily Erskine has said, "You can see the attention is speaking for itself," according to USA Today.
But until that official announcement is made, we'll all just have to wait patiently and dream of the day we'll be able to buy the Chocoladilla for ourselves. Or if you absolutely can't wait, just take an impulse road trip to Wisconsin. I'm sure that thought has already crossed someone's mind by now.