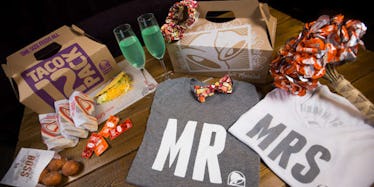 Taco Bell Is Offering Weddings But You Have To Shell Out $600 For The Ceremony
Twitter/Taco Bell
If you absolutely love tacos and you're on a tight budget, but you're also in love, this is your calling. Taco Bell is now serving up wedding ceremonies!
I can see it now: unlimited refills and "Fire Sauce" for all in attendance. It sounds like a beautiful thing and now, it can be your beautiful reality.
First, you need to figure out whom you're going to marry. Then, you're going to want to make your way to Taco Bell's Las Vegas Cantina flagship location.
That's where the new Taco Bell wedding chapel is! No, I'm not kidding and this is NOT "fake news." This is very real news!
If you've ever had wild dreams about getting married at a Taco Bell, you can now fulfill those dreams by forking over $600 for the ceremony.
According to Taco Bell, your $600 payment will get you a Taco Bell garter and bow tie. But wait, there's more. Remember that dream you had about tossing a "sauce packet bouquet?" It's coming true.
The newlyweds will also get two "Just Married" t-shirts and a batch of Taco Bell-branded champagne flutes. Go crazy!
At this point, you're probably wondering about dinner. After all, you're at Taco Bell. Dinner has to be good, right? Right.
Your well earned $600 will get you a 12-pack of delicious tacos as well as a Cinnabon Delights wedding cake for dessert.
It doesn't get any fancier than that, folks.
As of right now, the Taco Bell weddings in Vegas won't be happening until summer rolls around.
Until then, if you're really looking to tie the knot at a Taco Bell location, you can enter the fast-food chain's "Love & Tacos" contest to be the company's first-ever couple to be married at its Vegas restaurant before the summer.
Hey, look at the bright side. Now, you have more than enough time to buy her the Ring Pop she's always wanted.
Citations: You Can Now Get Married at Taco Bell—But It'll Cost You $600 (Playboy)