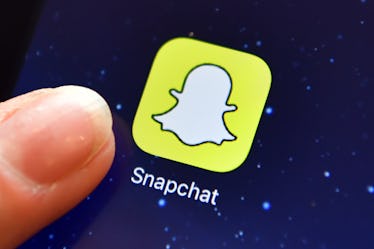 Here's Where To Find Snapchat Tabs If You're Searching For The New Feature
Carl Court/Getty Images News/Getty Images
If you're wondering what all the hubbub is over Snapchat tabs but have no idea what your friends are talking about, I'm here to help you figure it out. (The new feature will make your life so much easier.) With so many updates to the Snapchat app this year, it can be hard to keep up with it all. Look, I don't blame you. Just when you think you know everything you need to about the app, more features are unleashed. Now, I'll be the first to say these are all welcomed changes to the social media app. But if you need some help navigating your way around, I'll show you where to find Snapchat tabs.
Before anything else, make sure you have the latest version of Snapchat on your mobile device. How do you know if you do? Head on over to your smartphone's app store to see if there is an update waiting for you or not. Download and install the latest version. Now that you're up to date, open up the app. The first thing you are likely going to see is the camera screen. This is where you can Snap your best selfie or upload a Story to your account. Hold that thought for now, because we are going to navigate over and find tabs.
On the camera screen, you'll see a small message icon in the lower left hand corner. See it? Good. Click on that, and your Friends screen should open up. Now, you are probably realizing that everything looks a little different. Before you write off Snapchat forever, remember that change can be good. Place your eyes on the blue bar at the top of the app. Notice anything new? Yep, there they are in all of their glory: Snapchat tabs (!!!).
You'll see that Snapchat has easily divided your content up into three easy-to-find categories: Groups, Stories, and Chats. There's no more fumbling around the app or trying to find the latest chat from your BFF. Snapchat tabs puts you in control of the content you want to see, when you want to see it.
First up in tabs is the Groups category. This is the home base for all of your group chats, whether they're texts, a Group Voice Chat, or a Group Video Chat. So when you need to put that 16-person video chat on hold (or 32-person voice chat), the Groups tab is where you can easily pick it back up later.
Next up is the Stories tab. Here, you'll find Stories from all of your friends in one place. Snapchat even organized the Stories starting with the most recent ones first so you don't miss a beat.
Lastly is the Chats tab. This is your tried-and-true space for texting one-on-one with your friends. You can still opt to view your friends' Stories in this space, but its primary use is just to text and Snap with fellow Snapchatters.
If you haven't checked in lately, a yellow dot will appear next to each tab letting you know that new content is ready for you to view. Pretty handy stuff, right? In terms of social media apps, it really does not get more convenient than this.
Snapchat first announced they would be rolling out tabs to users back in late February 2018. No official timeline was provided by the social media app company, but they did say that iOS users would be the first to see the product updates (soon followed by Android users). If you don't have Snapchat tabs just yet, hang tight — because the organizational feature is likely coming your way soon. However, you'll need to keep checking for updates!
Here's one last piece of advice from me to you: Turn on the automatic app updates in your phone's settings so you know you're always running the latest version.