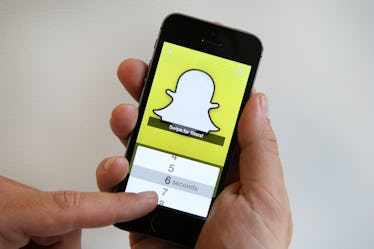 If You Don't Have Tabs On Snapchat Yet, There Are Probably A Few Reasons Why
Peter Macdiarmid/Getty Images News/Getty Images
The Snapchat update has left some users totally heartbroken, while it's kind of changed the lives of others — and I'm personally feeling smack dab in the middle about it. But no matter what your stance is on the new format RN, there's a likely chance that you've heard about the latest Snapchat lifesaver, which is an additional feature called "Tabs." And if you aren't already noticing a change in your app, which totally organizes your Friends and Discover pages, you're probably wondering why you don't have Snapchat tabs just yet. I know you're panicked, but don't worry; the feature is set to make its way to your smart phone soon enough.
There are two possible reasons that you may not have the tabs feature in your Snapchat app, and trust us, it's not because Snapchat is out to get you, or anything like that. Your Snapchat tab access could be delayed for two reasons: you have an Android, or you have an iPhone that didn't update yet. Even though that probably isn't the definitive answer you were looking for, that seems to be the case, and you'll likely be getting tabs in the weeks to come.
A spokesperson from Snapchat explained tabs in further detail to Elite Daily, delving into the positive aspects of the new and exciting update. Apparently, tabs will make it "easier for Snapchatters to keep up with the Stories they want, when they want them." Tabs will make it possible to sort through Stories and group chats (so you probably won't have a hard time finding your friends' Stories anymore). It'll also better the Discover page by helping users sort through publisher subscriptions, creators, and the community.
On Tuesday, Feb. 20, Snapchat officially announced the addition of tabs, which allows users to organize what they want to see, when they want to see it. Although it maybe sounds like an extra step in finding what you're looking for, it makes definitely interesting content more personalized and accessible, and perfect for all of you Leslie Knopes out there that just need a little more organization in your lives.
Another sweet addition to Snapchat are the new (and absolutely adorable) Snapchat GIF Stickers. Appearing as little moving stickers on each photo, Snapchat GIFs literally give me life. And, there are so many options to choose from, it makes editing photos ten times more fun... but also way harder. These are also being released on a rolling basis, however, so if they haven't made it into your Snaps at this point, don't panic. I repeat: do not panic. They will become available soon enough — but as they're being released on a rolling basis, they haven't hit everyone's smart phones quite yet.
Snapchat update nay-sayers were totally pumped when Twitter user @isaacsvobodny got Snapchatters' hopes up after tweeting a screenshot of a private conversation he supposedly had with Snapchat on Twitter in February. The frustrated Twitter user was roasting the new Snapchat, and asked Snap how many retweets of their conversation he needed to get the old Snapchat back.
However, based on the tweet, @Snapchat responded (that is, if Snapchat's answer was even real). The screenshot showed Snapchat agreeing that if a screenshot of the conversation got 50,000 retweets, they'd revive the old version. As its received almost 1.5 million retweets and nothing's happened, many are wondering if it was just a way to get those likes... but either way, it gave Snapchatters a little slice of hope. Even so, these new updates are sure to make Snapchat users excited to start using the app more.
Check out the entire Gen Why series and other videos on Facebook and the Bustle app across Apple TV, Roku, and Amazon Fire TV.