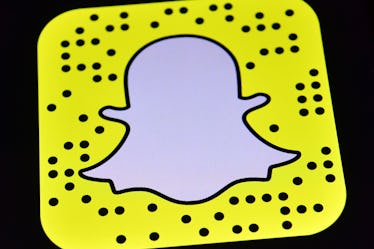 Snapchat Just Added A New Update That Makes It (Slightly) Easier To Use Again
Carl Court/Getty Images News/Getty Images
I'll be honest with you: I considered deleting my Snapchat immediately after I took a glance at their last update. It's just too hard to find my friend's Stories when I actually do get on, and I also have no idea how to navigate the Discover page. Aside from my reservations, there's been a ton of other criticisms related to the last update, and it looks like Snapchat has finally done something to regain our love, thanks to these newest changes. But as with any change, there's an adjustment period. If you were wondering what Snapchat tabs are, it's Snapchat's attempt to make app navigation easier (and to get us to stop blowing up their @ mentions with our complaints for once and for all).
On Tuesday, Feb. 20, it was announced that Snapchat would be adding a couple new features to their app. According to Mac Rumors, one of those features is called Tabs, which will help users separate and organize stories the way they want. Basically, users will have access to tabs related to group chats, active stories, and "all" content through Snapchat's Friends section, according to the site. The tabs in the Discovery section will be used to separate creators, the community and others, which makes it easier for users to decipher between the things they want to see, when they want to see them. The update will hit iOS systems first, and Android will have it in the next few weeks, so you better get ready.
It's not the only update.
Snapchat also announced that they partnered with GIPHY to bring an "endless" library of GIF stickers to their app. How exactly does it work? Basically, beginning on Feb. 20, Snapchatters will press the sticker icon, search a keyword for the kind of image they want, and the results will pull up related images that can be rotated, scaled or pinned to a video. Users will also be able to add multiple stickers, which'll make their stories all the more interesting. That said, the new features sound kind of... impressive.
Snapchatters were not thrilled about the last update.
Earlier this month, many Snapchat users were kind of pissed when they opened the app and saw its new interface. It features a new Friends page, where all of their friend's Stories, chats, and Bitmojis are compiled onto one page versus the previous format where Stories and chats were separated. There's also a new Discover page, which includes stories from the community, in addition to other features like Snap Map and Search. If I had to explain it to you in any way, I'd call it a digital Rubik's cube of sorts. It's just that tricky, and it's a lot to take in.
But Snapchat's CEO, Evan Spiegel, said the update isn't going anywhere. Spiegel addressed its criticisms at the 2018 Goldman Sachs Internet & Technology Conference, claiming that it would just "take time for people to adjust." He said,
The tech is an important piece but I think the harder part you can't get around is the time it takes to learn. You do need folks to use the product, to communicate with their friends to learn how to better provide that feed. The tech to some degree is a solved problem, the time to… to learn is a hard problem to solve. Even the complaints we're seeing reinforce the philosophy. Even the frustrations we're seeing really validate those changes. It'll take time for people to adjust, but for me using it for a couple months I feel way more attached to the service.
Maybe these new additions are Snapchat's way of meeting us in the middle. After all, customers always know best.