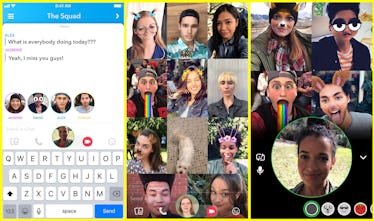 Snapchat's New Video Chat Feature Lets You Call A Bunch Of Your Friends At Once
Snapchat
If you ever wanted to video chat with 16 of your closest friends and family all at once, you can now do that and more thanks to a new Snapchat feature announced on Tuesday, April 3. In today's connected world, what could be better than using one of the most popular apps to wish your mom a happy birthday with your whole family on the screen? (Extra cool points for you if your mom uses Snapchat.) Or, what could be better than using Snapchat to decide which Airbnb to book for a weekend getaway with your college friends who are now scattered across the country? If you're wondering how to use Snapchat's Group Video Chat to talk to your friends Brady Bunch-style, we've got the basics covered for you.
Snapchat's new Group Video Chat feature will be steadily rolled out over the next few weeks to iOS and Android users, so make sure to keep checking back for updates to your app! If you already have it, let's get started. When you're in a Group Chat with your friends or family, simply tap the video icon to begin. From there, you can add up to 16 Snapchatters to your Group Video Chat. The app will send each of your friends a notification to join the Group Video Chat so they can accept or deny the invite.
If your friends aren't camera ready, don't worry. Accepting a Video Chat invite is optional! Your friends can join the chat with just their voice, or they can toggle between the two. Once your friend accepts the invite, a small bubble will pop up right above your keyboard, and that's how you know they've joined. (Oh, and you can still use all of your favorite face Lenses in the Group Video Chat. You know, if you and your friends are into puking rainbows and turning into puppies.)
So, you have more than 16 friends you want to talk to simultaneously? Fear not, Snapchat hasn't left you in the dust. In addition Group Video Chats, the social media app rolled out a few other new features that include Group Voice Chat. While you can't video chat with more than 16 friends at the moment, you can still Voice Chat with them. The idea behind Group Voice Chat is basically the same as the Group Video Chat, minus the broadcast picture, of course. Snapchat's latest Voice Chat feature allows you to talk with up to 32 friends at the same time. When you're in the Group Chat and have added in all your friends, click the phone icon, and Snapchat will send a notification to the users for them to accept or deny the call.
Snapchat first introduced Voice and Video Chats in 2016. Now, with users making millions of calls on the app each day, the company hopes that the rollout of its new features will make it even easier to stay in touch with friends and family in real time. While this might sound like a game of telephone gone awry, this is a major improvement over three-way calling that was all the rage in middle school.
The company also announced a third new feature coming to the app: Mentions! Now you can finally tag your friend in your stories by typing "@" and then selecting their username. The Instagram-style feature will send your friends a notification when you've tagged them in a story. (Pro tip: You might have to type out the full username before it catches!) From there, if the story or profile is public, other users can swipe up on your snaps and click the tagged profile to add them as a friend.
Don't see any changes to your app yet? The new features will be rolled out to users around the world over the next several weeks, so keep checking back for updates.