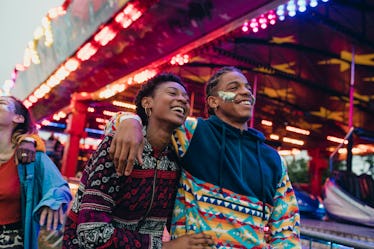 Here's Where Each Zodiac Sign Will Take You On A First Date, So Buckle Up
SolStock/E+/Getty Images
Nothing feels quite as awkward as politely dodging your crush's horrible first date ideas. You could think they're the hottest person in the world, but sorry, nothing and no one will ever make you say yes to a slam poetry reading or a hike if that's not your thing. (No shade if it is!) That's why knowing where each zodiac sign would go on a first date can be so helpful. You can brace yourself for maximum awkwardness and prepare some alternative date suggestions in advance.
Earth signs (Virgos, Capricorns, and Taureans) tend to plan dates that give you ample opportunities to showcase what a wonderful partner you could be. Like a job interview, but make it sexy. Water signs (Pisceans, Cancers, and Scorpios) are always in-tune with their emotions. On the first date, they want to set the perfect mood so you feel comfortable wearing your heart on your sleeve like they do.
As signs that are constantly socializing and making friends, air signs (Geminis, Libras, and Aquarians) will like dates that balance amusement with good conversation. What says peak air sign more than exchanging ideas and squeezing the most out of life? And of course, you can count on fire signs (Sagittarians, Aries, and Leos) to suggest an activity that's going to get your heart-racing. Here's where each zodiac sign will take you on a date, so secure your wig and buckle up.