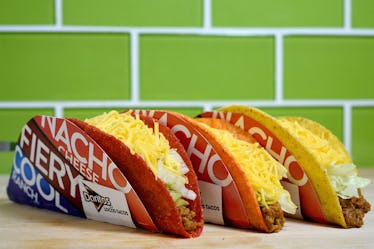 You Can Officially Get Free Taco Bell In June, All Thanks To Basketball
You guys, it happened: Free Taco Bell is about to become a reality for taco fans everywhere! OK, so it's only one day and you're only entitled to one free taco, but c'mon, any kind of free Taco Bell deal is really something to celebrate. It's thanks the 2018 NBA Finals that you can enjoy some complimentary taco goodness this month, and here's when to get free Doritos Locos Tacos from Taco Bell in June.
Whether or not you're a basketball fan, you can still take advantage of the free taco deal from Taco Bell on Wednesday, June 13. Before the NBA Finals matchup between the Golden State Warriors and Cleveland Cavaliers began on Thursday, May 31, Taco Bell announced its "Steal a Game, Steal a Taco" promotion for the third year in a row. If the visiting team won an away game (and "stole" the game from the home team), then Taco Bell fans would get to "steal" a Doritos Locos Taco from Taco Bell.
Well, there are no more "ifs" about it, because the Golden State Warriors notched a win in Game 3 in Cleveland, Ohio on Wednesday, June 6. The away-game win is great news for all taco fans who can snag a free Doritos Locos Taco on Wednesday, June 13 from 2 p.m. until 6 p.m. at participating U.S. Taco Bell locations.
Seriously, all you need to do is go to your favorite Taco Bell location between 2 p.m. and 6 p.m. on June 13, and one free Doritos Locos Taco is all yours.
If you're not familiar with the greatness that is the Doritos Locos Taco, I'll let you in on the fact that there are three different flavors of the delicious fast-food creation. You can choose your favorite from the three flavorful options: Nacho Cheese Doritos Locos Taco, Cool Ranch Doritos Locos Taco, and the Fiery Doritos Locos Taco. If you haven't tried them all, then June 13 is the perfect time to score that one flavor you've been holding out on. Personally, I'm partial to the classic Nacho Cheese flavor.
If you keep up with all the Taco Bell-basketball news, then you might have experienced a case of deja vu when you read that the Warriors "stole" Game 3 in Cleveland this year. Rest assured that you are not going crazy, because Golden State also won Game 3 of the NBA Finals in Cleveland in 2017 during the "Steal a Game, Steal a Taco" promotion. So, you again have the reigning NBA Champions to thank for this year's free taco frenzy.
The Golden State Warriors must have a thing for providing the free Taco Bell tacos that people want, because they also won Game 4 in Cleveland in 2016, the inaugural year of the "Steal a Game, Steal a Taco" promotion.
Of course, you don't need to know all of that to take advantage of this year's free Doritos Locos Tacos from Taco Bell on June 13.
While you're at the one of the best fast food restaurants known to taco lovers everywhere, you can also check out another new item to wash down your free Doritos Locos Taco.
Taco Bell's new Berry Frosé Twisted Freeze is only available at select Cantina locations, but it sounds like a great summer sip if you happen to be near the Taco Bell Cantina locations in Newport Beach, California or the Dearborn Street location in Chicago, Illinois. Those lucky Taco Bell Cantina customers can try the Berry Frosé Twisted Freeze that's made with rosé wine, and the end result is a "strawberry-forward" frozen sip.
Even if you're not in the neighborhood of the one of the two Cantina locations serving up the frosé libation, you can still take advantage of the the free Doritos Locos Taco deal at whichever Taco Bell is most convenient for you. BRB, gotta go mark down June 13 in my iCal and send a thank-you note to the Warriors.