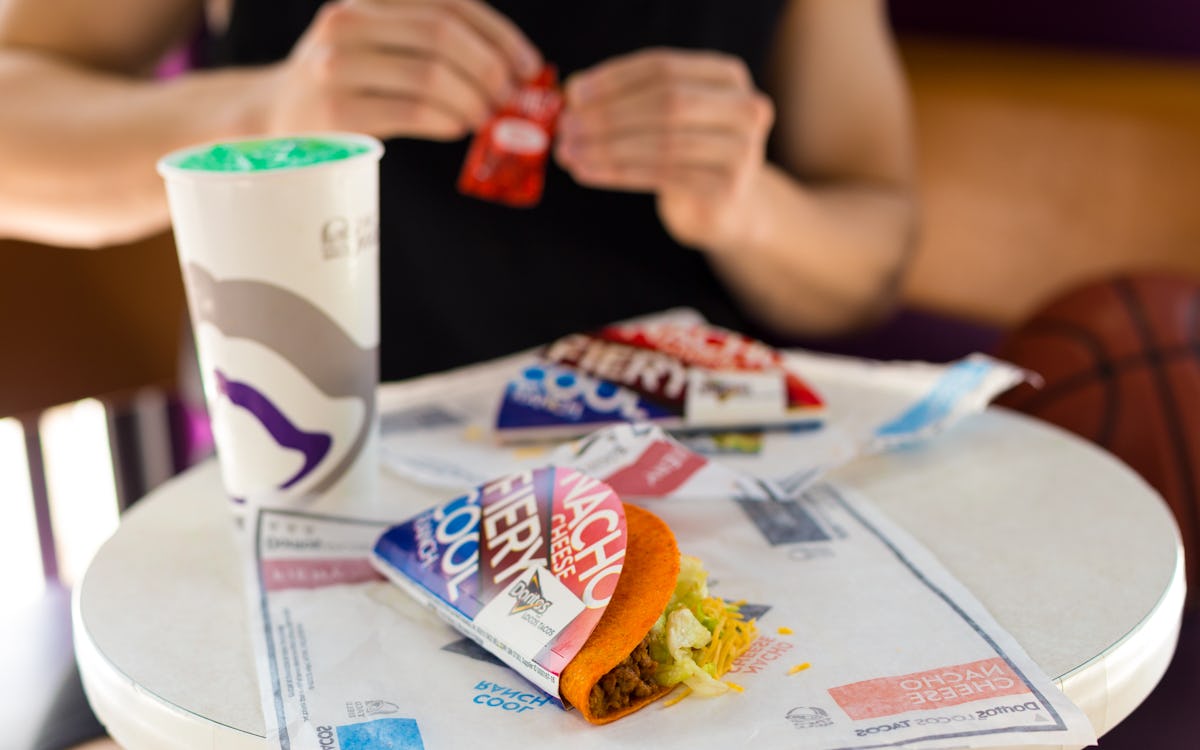 You Can Get Free Taco Bell Tacos During The NBA Finals, So Sports Aren't That Bad
Taco Bell
Taco Bell is back again this year with its annual "Steal a Game, Steal a Taco" promotion in conjunction with the NBA Playoffs. Basically, Taco Bell is giving out free tacos in the near future, but there is a catch. Even if you're not a basketball fan, you are going to want to pay close attention, because, hello, free tacos. Kick back, relax, and place your eyes on the big screen. Here is how to get free tacos at Taco Bell.
If you've been keeping up with the NBA Playoffs the last several weeks, you know that the Cleveland Cavaliers and the Golden State Warriors are about to go head to head in the NBA Finals starting on Thursday, May 31. When the away team wins — or "steals" a game — on the opponents home court, Taco Bell will serve up one free Doritos Locos taco to customers nationwide. That's right. A free taco, no strings attached. Now that's a deal I can sink my teeth into. Even if you are not a basketball fan, you can still chow down on a free taco from Taco Bell.
If the first three games of the NBA Playoffs are stolen, anyone can stop by Taco Bell for a free Doritos Locos taco on Wednesday, June 13 from 2-6 p.m. If the latter half of the series is stolen (and I'm talking about Games 4-7), Taco Bell will dish up another free Doritos Locos taco to patrons on Wednesday, June 20 from 2-6 p.m. Will you choose a Cool Ranch Doritos Locos Taco or a Nacho Cheese Doritos Locos Taco? I know which one I'll be ordering, but honestly, I'm just happy about free tacos. Who doesn't love free tacos?
"The NBA Finals and Taco Bell are the perfect matchup, and we can't wait to once again raise the stakes of an already fierce competition by putting free Doritos Locos Tacos for America on the line," said Marisa Thalberg, Global Chief Brand Officer, Taco Bell Corp., in a press release. "This is the third time we've partnered with the NBA, and the power of our combined fanbase creates an exciting cultural moment around the Finals. We know one thing is for certain, everyone will be rooting for tacos."
This is the third year in a row that Taco Bell is playing to the stomachs of NBA fans and taco lovers alike. As a part of the NBA Finals, the first free Doritos Locos taco was given out in 2016 when the Warriors won Game 4 against none other than the Cavs. The story is similar in 2017 when the Warriors took Game 3 from in Cleveland. It seems like history is about it repeat itself once again.
Your free snack is only contingent on the Cavs winning a game at Oracle Arena in Oakland, California, or the Warriors scoring big against LeBron James and his teammates at the Quicken Loans Arena in Cleveland, Ohio. So even if you are not into sports, or maybe you are the NBAs biggest fan, keep an eye to the court — because you never know when free food might be coming your way in the next several weeks. You can watch the NBA Finals starting on Thursday, May 31 on ABC at 9 p.m. ET.
There is no purchase necessary to claim your free taco, and the deal is good while supplies last in all 50 states as well as Taco Bell locations in Washington, D.C. Although, one taco likely will not be enough to fill you up, so order a Triple Melt Burrito or Cheesy Roll Up from Taco Bell's dollar menu to keep the hunger pains at bay. No matter which team takes home the Larry O'Brien NBA Championship Trophy, everyone still wins big with Taco Bell's "Steal a Game, Steal a Taco" promotion.