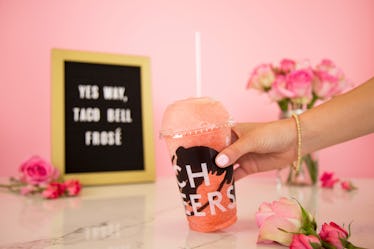 You Can Get Taco Bell's New Rosé-Infused Frozen Drink By Visiting These Locations
Taco Bell
There's a new drink in town for you to sip on this summer. Taco Bell is debuting a pretty pink beverage to cool you down as the weather warms up, and now you can "rosé all day" with the Mexican fast food chain. The Berry Frosé Twisted Freeze is the latest menu item from Taco Bell, but you can only taste this exclusive summer refreshment at certain locations for a limited time. Here's where to get Taco Bell's Berry Frosé Twisted Freeze.
You already know that rosé is the unofficial drink of summer (or at least it is in my household), so the news that Taco Bell is testing out a Berry Frosé Twisted Freeze is music to my ears. The newest drink of the sunny season is (sadly) only available at select Cantina locations. If you want to try Taco Bell's berry-flavored frozen beverage, you will need to stop by one of two Taco Bell Cantinas in Newport Beach, California or at the Dearborn Street location in Chicago, Illinois. Run, don't walk, to enjoy the rosé-infused drink, because it will only be here for the summer months before disappearing from the menu.
I sure hope that the fast food chain decides to bring the Berry Frosé Twisted Freeze to other Taco Bell Cantina locations around the nation, but for now I may just have to settle on a trip to the California coast or Windy City.
Taco Bell's 16-ounce Berry Frosé Twisted Freeze is made with 2 ounces of Charles & Charles rosé wine, and will be available for purchase for $7.99 all summer long ($5.49 at the Chicago location). Compare that price to a glass of wine after work and I'd say it's a darn good deal. Hailing from vineyards in Washington state, this particular rosé touts the summertime flavors of strawberry, watermelon, and floral notes. Yes, please. Taco Bell had the genius idea to blend the West Coast rosé with flavorful berries to create a tasty, easy-to-sip summer refreshment for fans to enjoy. I'm here for it.
Who would have ever thought that your next happy hour outing with friends might take place at a Taco Bell Cantina on the beach or in the city? Seriously, though. Grab a burrito or two from Taco Bell's dollar menu to eat while you sip on the Berry Frosé Twisted Freeze. Dinner and drinks (with a view) for roughly $10? Sold. I don't know about you, but I think frosé pairs pretty darn well with Mexican fast food.
While savoring a glass of frosty rosé may remind you of sitting on your outside patio or hanging out at a backyard barbecue, it's time to rearrange your plans and hit up a Taco Bell Cantina this summer and try the Berry Frosé Twisted Freeze for yourself.
Can't make it to Newport Beach or Chicago this summer? Taco Bell still has a fun promotion lined up for you to partake in. You can score a free Doritos Locos taco during the NBA Finals when the away team wins (or "steals") a game from the home team. If you're lucky enough to live nearby one of the chosen Taco Bell Cantina locations offering the Berry Frosé Twisted Freeze, you might just be able to enjoy a free Cool Ranch Doritos Locos Taco or a Nacho Cheese Doritos Locos Taco with your wine.
Wherever you reside, this frosty pink wine treat will help get you through the dog days of summer, so it's worth the trip. I know summer is not officially here yet, but honestly, it is already so hot outside that sometimes I feel like I might just melt right on the spot. I know I'll be taking a sip or two of the Berry Frosé Twisted Freeze to chill out and cool off when the temps start to rise. Cheers, and drink responsibly!