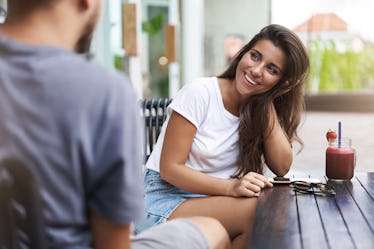 Here's How You Probably Flirt, According To Your Enneagram Type
Shutterstock
A playful toss of the hair, a witty text, or a surprise Seamless delivery — there are so many different ways that people can show they're into someone else, and the route you take typically depends on your personality. Did you know that the Enneagram is a super useful tool for understanding how you behave in the context of dating? Specifically, you may be amazed by what your Enneagram type says about your flirting style. Since the Enneagram model delves deep into your core worldview and motivations in life, it offers a ton of insight into how you connect with others and demonstrate your interest.
Once you know your Enneagram type, your love life will likely start to make a lot more sense. For one, knowing whether your type falls into the Head, Heart, or Gut center of intelligence can tell you a lot about how you react to different dating situations. If you're a Gut Type (One, Eight, Nine), for example, you're more likely to act quickly based on your instincts and ask someone out rather than overthinking it, the way a Head Type (Five, Six, Seven) might. Meanwhile, if you're a Heart Type (Two, Three, Four), you make decisions primarily based on what feels good.
There's no right or wrong way to flirt, and what works for one person might not for another. With that in mind, here's a rundown of each Enneagram type's wonderfully distinctive flirting game.