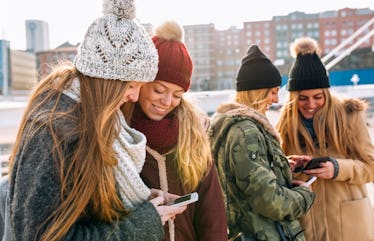 9 Clues You Can Spot On Instagram That Someone's Single, So Sleuth Away
Back in the olden days (i.e. like five years ago), people used to explicitly state their relationship status on Facebook. Nowadays, finding out who's single and who's taken usually involves some sleuthing. Venmo can be pretty telling, and Snapchat reveals a lot, but if you really want to figure out whether someone's still on the market, Instagram is the place to go. Although not everyone is going to 'Gram their partner on the daily, there are still ways you can tell if someone single on Instagram. Whether you've been following someone for years or just started following them, certain clues can help determine who's coupled up and who's available to hook up. Luckily for you, I know them all.
Maybe you're trying to decide whether that cutie who lived down the hall from you sophomore year is still single. Maybe you want to know whether the person you met at the bar last week is as unattached as they seemed. Even if their page isn't filled with couples selfies and captions proclaiming their love, a few key details can tell you whether someone's taken or up for the taking. Here are some clues to help you determine who's single and ready to mingle.