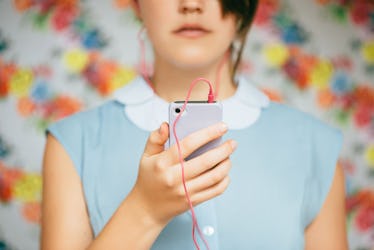 5 Signs You Can Spot Online That Hint Someone Might Be In A Relationship
Call me a modern day Nancy Drew, because boy, do I love an internet mystery. The sweet suspense of figuring out what I can garner from a Google search! The anxiety that ambushes my esophagus as I wait to see if an Instagram is private! The satisfaction of seeing a like on Twitter and confirming that I was right all along! The distance one will go to investigate a crush online is perhaps the truest form of modern romance. There are always signs someone is in a relationship online, and I'm going to teach you how to find them.
Before I share all of my hot tips and tricks, I must admit that my online stalking can lead me astray. I once assumed that a dude I was crushing on had a girlfriend — but it turns out he just had a few close female friends. I also once tricked myself into believing a dude I was seeing lied to me about being away on Valentine's Day and was actually right here at home in New York City... until I found hard Instagram evidence that he actually was traveling, as he had originally told me. Oops.
I have struggled with too much internet investigation, so take all of these tips with a grain of salt. That said, if there's a coworker, local barista, or even a person you're actually dating (because some people are cheating pigs) whose relationship status you want to know, take a peek at these signs that a person is in a relationship. (But please, don't let them make you jump to ridiculous conclusions! Or, in other words: If you start being a Nancy Drew about your ex, unfollow them!)