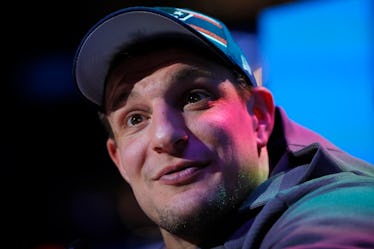 This Is What Rob Gronkowski Is Probably Like As A Partner, According To His Zodiac Sign
Kevin C. Cox/Getty Images Sport/Getty Images
If Patriots's quarterback Tom Brady is the GOAT, perhaps Rob Gronkowski is the bull. Born on May 14., the Pats tight end is literally a Taurus. With a strong, steady and strategic nature, Taurus the bull is the second sign of the zodiac. There's no question that the Patriots player is rough and tumble on the field, but what does Rob Gronkowski's zodiac sign say about him as a romantic partner? I thought you'd never ask.
To fully unpack the celestial identity of Rob "Gronk" Gronkowski, I called in our starting lineup of zodiac experts, namely, astrologer Cindy Mckean. "Rob Gronkowski is a sun sign Taurus — this makes him fixed, stoic, strong, and determined," Mckean tells Elite Daily. "They search for partners that are practical, efficient, honest, and straightforward."
Of course, we'd be remiss to ignore Gronk's beautiful boo, cheerleader turned model, Camille Kostek, who graces this planet as both a glowing angel and a sensitive Pisces. The flawless water sign, Kostek confirmed the pair's romantic status in a 2018 interview with Sports Illustrated. Yet Gronk started making an affectionate appearance on the model's popping Instagram as early as 2015. And with a dependable nature and no BS attitude, Gronk the Taurus probably makes a pretty awesome partner.