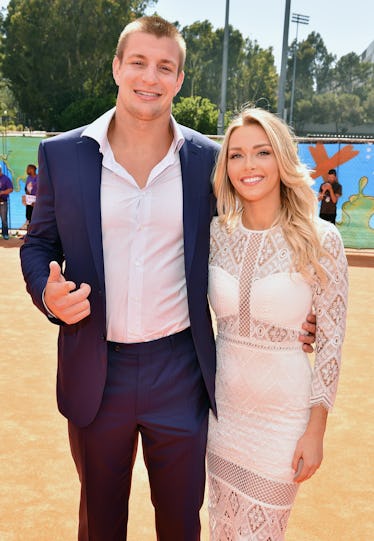 Rob Gronkowski & Camille Kostek's Astrological Compatibility Is Romantic & Super Hot
Dave Mangels/Getty Images Entertainment/Getty Images
You know it's Super Bowl season when sports fans and non-fans alike get curious about the players they'll see come game time. Some folks look at their stats and relevant sports-related data, but personally, I'm far more interested in the real questions, like who they are, where they're from, and who they're dating! Take, for instance, Rob Gronkowski, aka "Gronk," tight-end for the New England Patriots and his Pats cheerleader-turned-model Camille Kostek. When exactly they started dating is unclear. But one thing that is pretty clear? Rob Gronkowski and Camille Kostek's astrological compatibility is fire.
In February 2015, TMZ first leaked that Gronk and Kostek were an item, and Kostek confirmed on a radio show that April that she and Gronk were, indeed, a couple. Fast forward to February 2017, when TMZ published a story saying the couple had actually broken up. It wasn't until 2018 that we saw the first traces of Kostek on Gronk's Instagram, and she started posting about him regularly.
They may have had a jittery start, but if their zodiac signs are any indication, this is one epic romance. Gronkowski was born May 14, 1989 under the astrological sign of Taurus. Kostek's birthday is February 19, 1992, which makes her sign Pisces. Right away, it becomes clear why these two are so drawn to each other. These are both deeply emotional signs with traditional ideas about romance. They are both nesters who want to be madly in love and settle down, so together they have a real chance of making that come true. Here's what else we can divine about how these two would fare in a relationship, based on the compatibility of their zodiac signs.