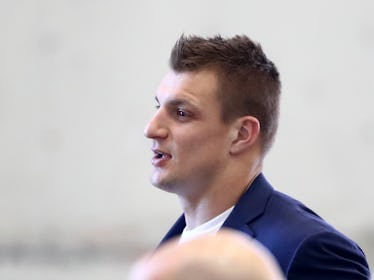 The Timeline Of Patriot Player Rob Gronkowski's Love Life Is Pretty Complicated
Elsa/Getty Images Sport/Getty Images
As the New England Patriots head to the Super Bowl, a few players remain the center of conversation. Standing at 6 feet 6 inches and 265 pounds — Rob Gronkowski (aka Gronk) is one of the team's star players and a force to be reckoned with. It turns out, Gronk keeps people guessing on the field and when it comes to his love life. Who is Rob Gronkowski dating? The Patriots player has seemingly had a pretty consistent on-again-off-again girlfriend, but sources close to him would say that's not quite the case.
Basically, Gronk's dating life has a big, fuzzy question mark hovering over it. Besides working to keep his personal life as private as possible, Gronk also denied dating a woman who openly gushed about dating him. Soooooo... that's awkward.
He was first connected to the ex-Patriots cheerleader Camille Kostek, who was on the team from 2013 through the Patriots' Super Bowl victory in 2015. She did confirm to the Boston Globe in April of 2015 that her and Gronk were, in fact, an item. She said,
Rob and I have been seeing each other. We're both super busy right now. Obviously he does a lot and I do a lot.
Nothing ambiguous about that. Although the two have been seen in various Snapchats together and Kostek has frequented many of Gronk's games, multiple sources close to Gronk told TMZ the couple is "100% NOT dating, period." I feel confused. According to the source, Kostek and Gronk "had a fling" at one point in the past, but that's over and Gronk has "moved on," according to TMZ.
I'm not sure how Gronk could explain attending a wedding and celebrating his birthday with Kostek last May, but that's none of my business. Last season, Kostek sported Gronk's number at the multiple games she attended. She even mingled with the other WAGS — including Danny Amendola's reported girlfriend Olivia Culpo.
Even if they are just good friends and not romantically involved, it would suck to see yourself put on blast by the media. Kostek opened up about the rumors surrounding her and Gronk's relationship. She caught up with The Post during a Sports Illustrated Swimsuit casting call and said,
I've quickly learned that everyone has their own two cents, and I just kind of let that stuff roll and let the people talk. At the end of the day, the people that matter know what's the truth.
According to The Post, these rumors upset Kostek for "a hot second," but she was able to find comfort in her close friends and gain some perspective.
When I talked to the people that are important to me, I was like, everyone knows the real truth.
As far as the wedding the two attended together, the blonde model said it was a great time and Gronk is a "fun dance partner." She didn't shed any light on their current relationship status. She said,
It was super fun and that was for one of his best friends, Orlando. They went to college together [at the University of Arizona], and it worked out because that was just a quick hour-and-a-half flight for me to get to Arizona. It was nice to see him, see the families, all the friends again. It was just a really fun time.
Gronk is such a fun dance partner, he apparently just rips his shirt right off when he gets too warm busting a move. The photo above of the him kissing her on the cheek does look romantic, but (apparently) Gronk is single.
His personal life may have some unclear answers, but Gronk is feeling confident with his professional life. After getting injured and still being in the NFL's concussion protocol — Gronk confirmed to USA Today that he will be playing in Super Bowl LII with a firm "yes." He did do a little backpedaling and added for safe measure,
We will see how it goes and what the doctors say. I'm not the guy that says, 'Oh, I'm out of the protocol.' That's the doctors' calls and hopefully that's very, very soon.
That's good news for Patriots fans, but maybe not-so-good news for fans of the Eagles — time will tell. It's all going down on Sunday, Feb. 4. I'll bring the guac.
Check out the entire Gen Why series and other videos on Facebook and the Bustle app across Apple TV, Roku, and Amazon Fire TV.