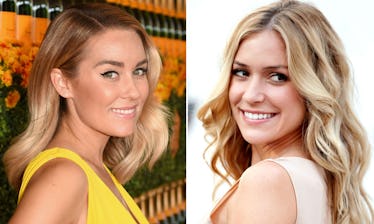 Here's What Kristin Cavallari & Lauren Conrad Have Been Up To Since 'Laguna Beach'
Jason Merritt/Getty Images; Christopher Polk/Getty Images
Celebrity relationships and friendships are a rare breed. These famous faces have their lives played out in front of the masses, whether it's the good, the bad, or the straight-up shady. In Elite Daily's new series, It's Complicated, we're highlighting the biggest celebrity "feuds" that took over Hollywood and dominated our Sunday brunches for weeks on end. We'll take a deep dive into the lives and social media feeds of our favorite stars and dissect what happened in front of the camera, what went down behind the scenes, and everything you might have missed in between.
The queens of Laguna Beach, Kristin Cavallari and Lauren Conrad, have totally new and exciting lives since Hillary Duff last sang their opening sequence song. A whole chapter ended when Cavallari eventually drove away from Brody Jenner under the Hollywood sign in 2006, but a whole new novel started for the young stars when their spinoff series eventually wrapped and they found themselves a little older and a little more famous, with their futures still unwritten. (Ugh, sorry.) If you're wondering what Kristin Cavallari and Lauren Conrad are doing now, the answer is: a lot.
Today, both women are married, have become mothers, and are rocking a variety of successful businesses. Cavallari is even launching a new television series called Very Cavallari, prompting old Laguna Beach and The Hills fans to look back at her and Conrad's past. The infamous frenemies were filmed during their high school years in the early days of reality TV, making their California-based series one of the biggest hits on television. The truth is, even though it's been over a decade since the Laguna Beach finale, these two ladies are still, like, young. Conrad, aka LC, is 32 and Cavallari is 31, which means they're more than relatable and just as relevant to the fans who have grown up with them. (*Cough* me *cough*).
Before we dive into it, here is what I will say: Great haircuts all around. Neither woman has ever had a haircut I didn't like.
OK. Here we go.
Lauren Conrad (LC)
You definitely follow her on Instagram. Don't lie to me.
If you know anything about Conrad these days, it's probably about her carefully-curated Instagram feed and her pastel-soaked clothing lines. LC is killing it in the lifestyle and fashion games, and she actually owns two fashion lines: Paper Crown and LC Lauren Conrad. Fans can conveniently find Conrad in the mainstream department store Kohl's. She's also written a bunch of books. (Seriously. A whole lot. Like, more than 10.) Some are lifestyle-inspired and others are juicy little novels about being young in Hollywood. The last time you saw her on TV was for The Hills 10th Anniversary Special in 2016, which was "da bomb," as my 2003-self would have said.
Conrad is also married to William Tell, whom you might know as the guitarist from the band Something Corporate. Tell and Conrad got married in 2014 in a wedding which basically defined Pinterest boards as we know and love them today. In 2017, they had their first child together, Liam James Tell, and Conrad went through her entire pregnancy still repping her famous cat eye eyeliner.
I'd be lying if I said I didn't use her Instagram feed as a reference for how to live my own adult life.
Kristin Cavallari
Ah, Kristin. Kristin, Kristin, Kristin. She and LC had their fair share of ups and downs, and according to PopSugar, they really don't speak anymore. Since wrapping up Laguna, Cavallari has popped in and out of the TV spotlight, and even once appeared on the 2011 season of Dancing With The Stars.
I could somehow watch this samba dance until I die.
Of course, today, Cavallari is gearing up for her new E! series, Very Cavallari, in which fans can follow the launch of her lifestyle brand, Uncommon James, and peek into her married life. Cavallari married former NFL player Jay Cutler in 2013 after the arrival of their first son, Camden, one summer earlier in 2012. They couple has since had two more children, Jaxon and Saylor, and recently moved to Nashville, where the television series will pick up.
Take a look at the promo.
I am not really sure what the plotline is yet, but I'm in it for the fancy turtleneck. Fans can tune into a Very Cavallari this summer on E!
Dear lord, let there be an LC appearance. Let there be an LC appearance. Let there be a Justin Bobby appearance, and let there be an LC appearance.