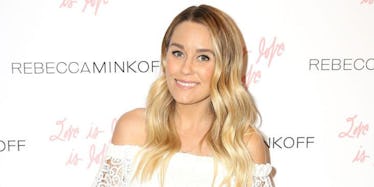 Lauren Conrad Shared The First Photos Of Her Son And He's Seriously Adorable
Rachel Murray/Getty Images
Attention, ladies: Hold onto your uteri. The first photos of Lauren Conrad's baby, Liam James Tell, are finally here, and he will give you baby fever faster than you can say, "Homeboy wore combat boots to the beach." The photos were taken exclusively by People and they are seriously adorable.
The magazine's cover photo shows a gorgeous Conrad with her son lying on her arm, all swaddled up in a soft white blanket. His big blue eyes are staring right into the camera, so you can tell he's photogenic already, despite being only a month old.
Other photos of Conrad and her baby are inside the magazine. In one, we see Conrad and her husband, William Tell, sitting with baby Liam. Lauren is making a funny face and Liam looks like he's mimicking her. While they are copying each other in that picture, Lauren says her son gets a lot of his features from his dad. She told People,
He definitely looks like William. But he's still so tiny it's hard to tell!
So, how has it been for Lauren to transition into being a mother? Apparently, not bad at all. She said, "Liam is such a good baby. I'm sleeping three to four hours at a time. This morning I was up at 4 a.m. and I wasn't even tired, so I cleaned the kitchen and did some cooking. William was like, 'You're crazy!'"
As we reported, Conrad gave birth to her son on July 5, 2017. Baby Liam weighed in at weighs 6 lbs. and 14 oz., and was 20 inches long when he was born.
And, the adorable tot already has a friend! Conrad's The Hills costar Whitney Port gave birth to her baby, Sonny Sanford, in July as well. Port posted a picture to Instagram to confirm the news.
Her caption read:
Sorry I've been MIA for like a week! I lost my phone. Just kidding!! I made a human! Sonny Sanford Rosenman was born on 7/27/17!! Everyone is so happy and healthy and we are home now. I'm going to try my very best to not be one of those moms whose feed is dominated by their baby but I can totally see how difficult it will be not to. I am beyond obsessed and in love and wish I could bottle this feeling for all of you out there. Check out the blog (link in bio) for more and welcome our little one to the world!!
All of the love to these two families and their new additions!