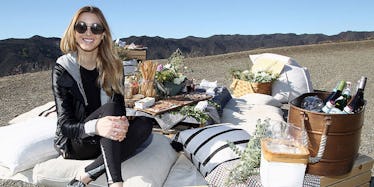 Whitney Port Gave Birth To A Baby Boy And His Name Is The Cutest
Tommaso Boddi/Getty Images for Allbirds
It's been baby-palooza for The Hills and Laguna Beach co-stars this summer. On July 31, it was announced on Instagram that Whitney Port named her baby Sonny Sanford. It was a long and difficult pregnancy for Port, and we're so happy her baby boy is finally here! The star is following in Lauren Conrad's footsteps, that's for sure!
Port has not been shy about documenting the literal growing pains of pregnancy, so we are thrilled to hear that Sonny made it into the world happy and healthy. On her blog, Port wrote,
Sorry I've been MIA for like a week! I lost my phone. Just kidding!! I made a human! Sonny Sanford Rosenman was born on 7/27/17!! Everyone is so happy and healthy and we are home now. I'm going to try my very best to not be one of those moms whose feed is dominated by their baby but I can totally see how difficult it will be not to. I am beyond obsessed and in love and wish I could bottle this feeling for all of you out there. Check out the blog (link in bio) for more and welcome our little one to the world!!
Whitney, you did it!!!
In her blog post titled "Meet Our Son," Port promised to give us all of the details leading up to his delivery, but for now, she just wants to talk about her feelings. She said,
We've all heard mothers give the same speech about how life changing the love for your baby is, and it's not like I didn't believe it or anything, but I guess I couldn't actually connect to those exact feelings until the doctor placed Sonny onto my chest. I love him and feel protective over him, but more than anything, I'm just like obsessed. I can't stop looking at him, or thinking about him when I am in another room. It's a bit like getting a toy you really really wanted as a child.  There was all the anticipation and build up, and then you open it and you love it.
She continued,
Unlike the toy, however, I am obviously never going to get sick of Sonny, and he poops.  All kidding aside, my heart just grew to accommodate all this extra love I now have to give. I don't care if this is sappy or trite and I don't want to say that I love him more than anything ever because I love Timmy and my family. It's not about loving him more than something else I love.  It's just awesome.  I can't wait to watch him change and grow and take on my traits and Timmy's.  I could go on forever, so I'll stop now, but get ready for a lot more Sonny talk coming soon.
Congratulations, girl! I mean, Mom! I mean, Whitney!