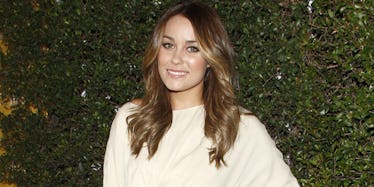 Lauren Conrad Revealed The Sex Of Her Baby On The Way In Cutest Instagram Ever
Shutterstock
We all know Lauren Conrad is, maybe, the most adorable mom-to-be of all time. In keeping with her brand, Lauren just revealed the sex of her baby in a totally adorable way.
She took to Instagram today to post a photo of a birth announcement card she found at her grandmother's house, and took the opportunity to let us know she is having A BABY BOY!
LAUREN! HOORAY! I LOVE IT! She wrote,
I found this adorable birth announcement while helping my Grandma move and I thought it was the perfect way to share that William and I are expecting a baby boy!
I've legitimately had the thought, "I only want boys one day" many, many times. You know, in the same way you sometimes think, "I want there to be a real live ostrich at my wedding one day," or, "I hope I get the cool sofa when my parents retire (or die???)."
You guys get me, right?
The cool thing about raising boys in today's day and age is you only need to teach them three things: Be honest. Work hard. Women are your equals.
Raising girls is a much more complicated, tricky, winding path involving how to be taken seriously at work, how to always be true to yourself, how to manipulate a patriarchal system that is not designed for them... BUT ALSO how love is real and how you can't harden yourself to the cruelties of the world!!!
I SO VERY CLEARLY DIGRESS!
This is such an exciting time for Lauren and her husband, and she had us swooning over her growing family in a previous post promoting her new swimwear line. In another Instagram post showing off her too perfect pregnant bod.
It's like we get it – you're the mom and sister and best friend and makeup consultant we've never had.
Congratulations, Lauren! We can't WAIT to meet your little guy!