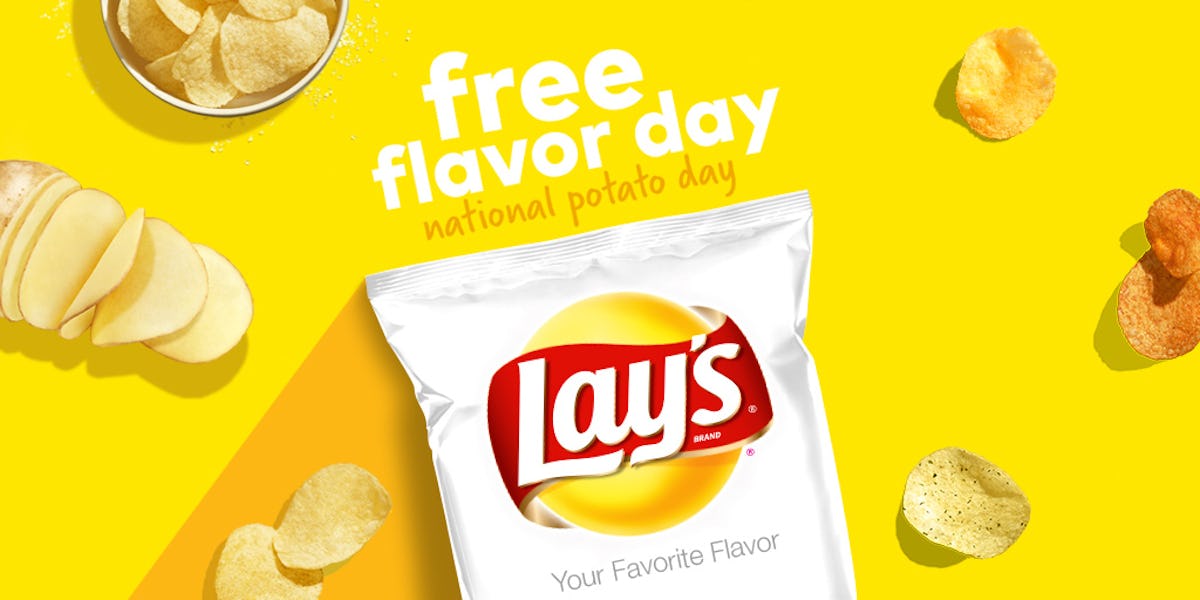 It's So Easy To Snag A Free Bag Of Lay's Fried Pickle Chips On National Potato Day
Lay's
Out of every single holiday, I have to say that National Potato Day is by far one of the most important of them all. So, you'd imagine I'm pretty psyched to celebrate it this Sunday, Aug. 19. Not only does it celebrate the best (and most versatile) food around, but it also makes way for some awesome freebies. If you're seeking out some free potato products to celebrate the greatest holiday of the year, here's how to win free Lay's Fried Pickle With Ranch chips. I mean, you can win any flavor, but who wouldn't want to celebrate with fried pickles in the form of a potato chip?
Since Sunday, Aug. 19 is National Potato Day, Lay's is giving fans the opportunity of a lifetime: a chance to win a free bag of potato chips. In honor of the beloved root vegetable, the brand is going to prompt fans via social media (on Facebook, Twitter, and Instagram), to post their favorite flavor in the comments section, according to Lay's. Five lucky AF fans on each platform will be randomly selected to receive the bag of chips that they requested. Needless to say, I will be trolling the brand's social media pages relentlessly to get my hands on Lay's most recent popular flavor: Fried Pickle With Ranch potato chips. I mean, in all honesty, it's all I want in life right now.
So, the bottom line of this contest is that the world is your freakin' oyster. You want Kettle cooked taters? You got it. What about some BBQ crisps? Oh, of course, right away. Plain? Uh, well, I guess so. But, why not branch out and try something new? The company literally offers over 20 tasty flavors, and if you're at all like me, you'll be trying to snag the latest and greatest Fried Pickle With Ranch flavor. After just one bite, you'll feel like you're standing right in the middle of the state fair or meandering down the beach boardwalk.
Lay's Fried Pickle With Ranch Chips are part of Lay's "Tastes of America" chip collection. And if you've been looking for the sold-out flavorful chips, Kimberly Scott, Director of Communications at Frito-Lay, told Elite Daily on Aug. 10 that Lay's is "working to restock inventory on Amazon.com and Walmart.com as quickly as possible."
The new chip collection comes with eight new flavors that best represent American cuisine. The other flavors include: Cajun Spice, Chile Con Queso, Chesapeake Bay Crab Spice, Deep Dish Pizza, New England Lobster Roll, Pimento Cheese, and Thai Sweet Chili. Each of the varieties sound like they'll taste straight-up fantastic — and all of them are available for you to potentially win on National Potato Day on Aug. 19. So, yeah, count me in, because Thai Sweet Chili sounds so up my alley. If you need me, I'll just be munching the day away.
Aside from eating mashed potatoes, cheesy potatoes, and just more potatoes in general, what better way is there to celebrate National Potato Chip Day, than with a free bag of Lay's Potato Chips? With their social media contest, you can win any flavor of your choice, and the best part is that their new Fried Pickle chips are, in fact, up for grabs. There are so many options, and you don't have very much time to choose at this point, so make sure you plan ahead and enter their National Potato Day contest on Sunday, Aug. 19. Seriously, you won't want to miss out on this gloriously crunchy opportunity.