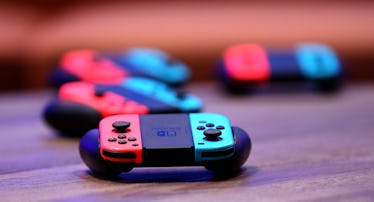 Nintendo Switch's Year In Review Reveals All The 'Animal Crossing' You Played In 2020
Gabe Ginsberg/Getty Images Sport/Getty Images
By now, you've checked out your Spotify Wrapped playlist and admired your top nine from Instagram. Social media recaps almost feel like cherished traditions at this point, and now you can add your Nintendo Switch to the mix. If you're someone who's been playing Animal Crossing: New Horizons nonstop in lockdown, here's how to use Nintendo Switch's 2020 Year in Review to see your gaming stats from the past 12 months.
While this year is certainly one some people would rather not look back on, it is always nice to reflect on the things that did bring you joy. Some people baked bread and others challenged themselves to TikTok dances with their time at home. You, on the other hand, spent some quality time with your Nintendo Switch. Your game console wants to share all those precious moments you spent together by revealing which games you revisited the most. Now that the Switch's Year in Review tool is live for 2020, according to Engadget, it is time to see your results.
Very similar to the 2019 Year in Review, this tool will show you which games you spent the most time playing, along with the number of hours. You can even compare your numbers from this year to last year to see how much of an impact COVID made to your playtime. Each user will even receive a graphic you can download to share to your Instagram, and let everyone know what kind of gamer you were.
If you happen to be someone who virtually traveled every chance you got by spending a good chunk of your time playing Animal Crossing: New Horizons, your badge might say something like "Getaway Traveler." You saw the "potential of a deserted island" and turned your space into a home away from home.
At the beginning of quarantine, a ton of Switch owners worked real hard to customize digital islands to their liking in the cute, customizable game that was released in March. Perhaps you threw a few Animal Crossing virtual birthday parties for all your friends, and even attended a comedy show or two. With all the winter things to do in Animal Crossing recently, you've definitely racked up a lot of hours this year spending quality time with your Switch.
Now, you can find out exactly how many hours with a bar graph showing the number of hours per month. You'll even find out your most active gaming day, and receive a panel with all the My Nintendo Gold points you've earned thus far in 2020. If this sounds like something you can't wait to see, you can check it out by going to the Switch Year in Review official page. You'll just need to sign into your Nintendo account to see your personal stats.
Share your special graphic to the 'Gram with some of your favorite gaming screenshots from the year. It'll be like a year end photo dump to showcase your highlights. You can even use a cute Animal Crossing Instagram caption with your post that all your followers (and villagers) will love.