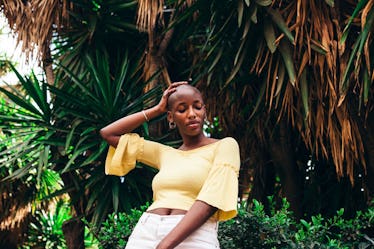 Here's How To Stop Obsessing Over Someone You Really Like
It can feel ultra delicious to have a crush. You've got a new cute person to look at and wonder about. They're a juicy tidbit you can add to the group chat. And there's all this sparkly, butterfly-inducing potential every time you interact with them. (I'm speaking as a Libra, aka a serial crusher.) But for whatever reason, you might find yourself wondering how to stop thinking about your crush.
It's possible there are aspects to your crush that aren't so delicious, like the fact they're already in a (monogamous) relationship. You two might have had a "moment" — a kiss, a hookup, or a warm exchange of affection — but they don't seem super keen on taking things further. Maybe they're distracting you from your academic or professional goals. Or perhaps they straight-up told you that they see you as just a friend and that's that. And now you're stuck with feelings you really wish you didn't have.
In a sense, it is harder to get over a crush you've been obsessing over rather than someone you've dated and with whom the relationship has run its course. "I think it's common to feel hung up on someone you've never actually dated if you were infatuated with them," relationships expert Demetrius Figueroa told Elite Daily. "Infatuation by its nature is intense and intense feelings are hard to get rid of — whether you dated someone or not." So, how do you make your feelings less intense? Here are three solid ways you can start getting over your crush.