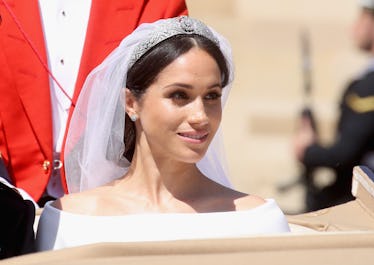 Here's How To Recreate Meghan Markle's Wedding Day Hair, So You Can Look Like The New Royal
Chris Jackson/Getty Images Entertainment/Getty Images
Like her sister-in-law, Duchess of Cambridge Kate Middleton, Meghan Markle hasn't wasted any time cementing her status as an approachable style and beauty inspiration. In the months leading up to her wedding day on Saturday, May 19, the former Suits actress put her own spin on princess-ready looks that toed the line between elegance and attainability, and I, for one, was totally obsessed with the results. Effortlessly messy bun? Check. Sleek and swingy blowout? Nailed it. Crisp, modern wardrobe? Check, check, and check. So it was kind of no surprise that the new Duchess of Sussex completely blew it out of the park with her romantic updo for today's walk down the aisle. And the best news is that it's actually pretty easy for anyone to recreate while effortlessly giving your outfit an extra chic factor. So here's how to recreate Meghan Markle's wedding day hairstyle IRL (the diamond tiara and 16-foot veil is optional). Trust me, you're going to want this romantic look in your date night beauty arsenal.
While I admit that I spent weeks obsessing over Markle's highly-anticipated wedding dress pick, I found myself totally distracted by her sleek middle-parted bun and totally dreamy accessories as she walked into St. George's Chapel for the ceremony.
When Markle finally pushed back the dramatic 16-foot veil edged with delicate lace for the big reveal, I was completely blown away by the simple but completely beautiful pairing of her low bun with her tiara. It was the perfect accompaniment to her wedding day makeup featuring sun-kissed skin, smoky eyes, and contour for days. I'm already planning to blow my paycheck at Sephora attempting to recreate her radiant queen-like perfection, so it's lucky that her updo is literally so simple to do myself. Plus, if it has the magical ability to make Prince Harry shed a tear, you know that I'm totally in.
First of all, Markle opted to wear a chignon, which translates to a "bun at the nape of the neck," according to Allure. The chignon is a staple at pretty much every wedding or formal occasion, and for good reason. The feminine and classic updo can immediately elevate any outfit while effortlessly showing off the makeup you spent an hour perfecting. That being said, it's actually oh-so-easy to recreate, and you can pull off Markle's wedding day hairstyle with just a comb, six bobby pins, and a dash of hairspray, according to hairstylist Lizzy Weinberg.
In a July 2016 feature in Elle, Weinberg first advises you to skip washing your hair for a few days. This "lazy girl" move will give your locks the grip they need to stay in that chignon. If you simply can't go that long without washing your hair, get the same effect with a dry shampoo (I'm totally obsessed with the one from Morrocanoil, which is $10.50 at Sephora).
Next, use a comb to make sure you evenly part your hair down the middle, then tuck it behind your ears. Weinberg then suggests twisting your hair in counter-clockwise movements to achieve that perfect low bun, using your finger to hold it in place.
Now here's the slightly hard part. Using two big bobby pins, secure the bun on both sides to get the shape you want, then put in as many bobby pins as your want to make it all stay together. You want a few romantic front pieces slipping out, but you want to make sure the whole updo stays secure for a whole day or night out.
For an extra dose of romance, Weinberg suggests, "Use your tail comb (or teasing brush) to shape and volumize the bun by slipping the end through the hair and gently pulling outwards. To create added volume and dimension in the crown, slide the tail comb into the top of your hair and give a little lift." Spray the whole thing with a light hairspray, like L'Oréal Elnett Satin Hair Spray, which is a total steal at just $6.99 at Ulta. Voila, you're got Meghan Markle's totally stunning wedding updo.
I love that unlike Kate Middleton, who wed Prince William in April 2011 with her signature bouncy blowout, Markle strayed from her trademark beauty M.O. for her big day with the sleek style that seems to show that she's ready to step into her role as a modern-day princess. Plus, how great does that tiara look with a few face-framing locks?
Judging from this stunning wedding day look, it's clear that Markle will be holding her own alongside fellow royal hair guru, Kate Middleton. Now that royal wedding mania is officially over, I'm officially transferring my obsession to copying the new Duchess's totally re-creatable beauty looks.