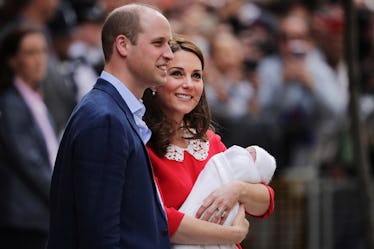 Here's How To Pronounce The New Royal Baby's Name Once & For All
Dan Kitwood/Getty Images Entertainment/Getty Images
Alright, alright, alright. Everybody relax. I'm sure you're upset that you didn't win the bet in the office about the royal baby's name, but there's no need to freak out. Sure, Louis came as a surprise. Sure, I put all of my money on Alexander. Sure, there were a lot of really good reasons to name the baby Alexander, BUT IT'S FINE. WE'RE ALL MOVING ON. SERIOUSLY. Kate Middleton and Prince William went with Louis, and no one knows how to pronounce it, so I'm here to clear it up. Here's how to pronounce Prince Louis' name if you're a panicky mess over it all.
Drum roll, please.
It's pronounced Loo-EE.
People were guessing things like Lewis and Louise, but those people are not smart. Just kidding, just kidding, just kidding. But it is pronounced like other famous Louises you might know, like King Louis, Louis Armstrong, Louis C.K., Louis Vuitton, and of course, Louis Tomlinson, of the band One Direction. Metro got to the bottom of the name business by digging up the video of Kate Middleton and Prince William's wedding ceremony, in which she calls him by his full name, William Arthur Philip Louis. Considering little Prince Louis is definitely named after his father, it's safe to say the way Middleton pronounces her husband's name is also the same way she pronounces her baby's name.
If you fast forward to timestamp 4:40, you can hear "Loo-EE," clear as a bell. (Try to ignore the awkward hand holding, it's very distracting.)
Little Louis was born on Monday, April 23. While his doting parents did step onto the famous St. Mary's Hospital steps to show his perfect little face to the world, they waited a whole four days to announce his name. The good news came like all good royal news comes, via Twitter. On April 27, Kensington Palace tweeted out the message,
The Duke and Duchess of Cambridge are delighted to announce that they have named their son Louis Arthur Charles. The baby will be known as His Royal Highness Prince Louis of Cambridge.
Hey, whatever you say, Kensington Palace Twitter.
As a roll call, here are the five full-names of this entire family:
Prince William Arthur Philip Louis - Duke of Cambridge
Catherine Elizabeth Middleton - Duchess of Cambridge
Prince George Alexander Louis - Prince of Cambridge
Princess Charlotte Elizabeth Diana - Princess of Cambridge
Prince Louis Arthur Charles - Prince of Cambridge
Impressive, no?
As far as the public understands, Kate and baby are doing well. With any luck, they're resting somewhere together in a sunny nursery while the rest of the palace swirls with wedding preparations for Middleton's brother-in-law, Prince Harry. Harry and his fiancée, Meghan Markle, have gone out of their way to ensure Middleton has no responsibilities on their huge day.
A palace insider told Vanity Fair there is "no pressure" on Middleton to do anything. The source explained, "Frankly, Harry and Meghan are just happy that Kate will be there given she will only just have given birth. They have told her there is no pressure on her to do anything, they just want her to enjoy the day."
Sounds super dope to me. The insider added,
They just want Kate to be able to enjoy the day and not worry about anything. Harry has said there's no pressure on her to do anything. They know Kate will have her hands full.
I don't know. Something tells me Prince Louis is chill AF. I mean, he shares the same name as this guy, after all:
What's more chill than a jazzy, singing cartoon gorilla? A baby prince, I guess.
Check out the entire Gen Why series and other videos on Facebook and the Bustle app across Apple TV, Roku, and Amazon Fire TV.