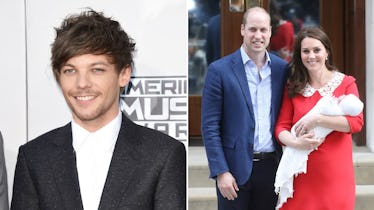 Louis Tomlinson Had The Most Hilarious Response To The Royal Baby's Name
Jason Merritt/Chris Jackson/Getty Images Entertainment/Getty Images
Could life get any better than this? We have a royal wedding on our hands in just a few short weeks (shout out to Prince Harry and Meghan Markle), and now, we have a new royal baby, too! Kate Middleton and Prince William welcomed their son, Louis Arthur Charles, on April 23 at 11:01 a.m. local time. What a time to be alive, amirite? And if you're LOVING that name, you're not alone. Nearly everyone is a fan, especially one A-list celeb who shares the same moniker. Yep, Louis Tomlinson's reaction to the royal baby's name is absolutely amazing, and might actually cause heavy fits of laughter if you're not careful (so, you know, be careful).
But first, let's talk a little bit about baby Louis. Kensington Palace announced the birth of Kate Middleton and Prince William's third child on April 23 at 8 a.m. EST. In a tweet, Kensington Palace said, "Her Royal Highness The Duchess of Cambridge was safely delivered of a son at 1101hrs. The baby weighs 8lbs 7oz. The Duke of Cambridge was present for the birth. Her Royal Highness and her child are both doing well."
So. Much. HAPPINESS!!! But as far as the child's name, we were initially left out in the dark. Glad he's happy and healthy and all, but we were all dying to know what name they went with.
Then, on April 27 (which seemed like an eternity, TBH), Kensington Palace announced the new royal's name. The announcement said,
The Duke and Duchess of Cambridge are delighted to announce that they have named their son Louis Arthur Charles. The baby will be known as His Royal Highness Prince Louis of Cambridge.
So cute! So regal. So royal.
So now, One Direction's Louis Tomlinson wanted to get in on the royal action, because, hello, same namesake!
Tomlinson took to Twitter welcoming the new prince into the world and to let him know that he's in good hands. He wrote,
Young Louis welcome to the world. I'll take you under my wing lad. The Adidas tracksuit is in the post!
LOL, this is everything.
Fans of Tomlinson know that he's *pretty* keen on tracksuits, so joking about sending the royal baby one as some kind of Louis initiation is all sorts of amazing.
According to People, Louis means "renowned warrior in French" and is "likely a tribute to Prince Philip, whose grandfather was Prince Louis Alexander of Battenberg." But Louis is also a part of Prince William's full name, so methinks that was probably taken into account as well.
And, while little Louis and Kate Middleton are doing just fine now, we found out months ago that Middleton was struggling with hyperemesis gravidarum, a condition which she suffered with her first two children as well. On Sept. 4, Kensington Palace released a statement announcing Kate Middleton's third pregnancy and her unfortunate condition. It read:
Their Royal Highnesses The Duke and Duchess of Cambridge are very pleased to announce that The Duchess of Cambridge is expecting their third child. The Queen and members of both families are delighted with the news. As with her previous two pregnancies, The Duchess is suffering from Hyperemesis Gravidarum. Her Royal Highness will no longer carry out her planned engagement at the Hornsey Road Children's Centre in London today. The Duchess is being cared for at Kensington Palace.
Totally scary to think about, but luckily, mom and baby are in perfectly good health and we can all rejoice that George and Charlotte now have a tiny little sibling to play with!
A huge congrats to the royal family, you're literally a beacon of light in all of our lives, and we love you dearly for being so damn lovely. And Louis Tomlinson... you too, I guess.