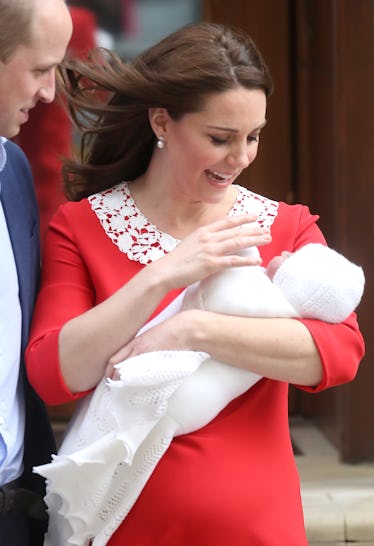 Prince William & Kate Middleton Debuted Their Third Baby & Twitter Was So Excited
Chris Jackson/Getty Images Entertainment/Getty Images
It is a ginormous day in the United Kingdom. Kate Middleton and Prince William just welcomed their third child, a baby boy, to the family and Twitter can't even deal with it. On April 23, 2018, the world received news that Middleton went to the hospital and, just a few short hours later, her new son was here. His Highness' first little appearance came shortly thereafter on the hospital steps, much like his older siblings Prince George and Princess Charlotte's big debuts. Now, tweets about the royal baby's first appearance prove how truly excited everyone is to welcome him to the party.
The world received news on the morning of April 23 that Kate went to St. Mary's in the early stages of labor. Not long after that, the public learned she had a little baby boy, and she and her newborn were doing well. Kensington Palace tweeted, "Her Royal Highness The Duchess of Cambridge was safely delivered of a son at 1101hrs. The baby weighs 8lbs 7oz. The Duke of Cambridge was present for the birth. Her Royal Highness and her child are both doing well."
Later, they added a message explaining she and the baby would be returning home later that evening. Kensington Palace also said, "Their Royal Highnesses would like to thank all staff at the hospital for the care and treatment they have received. They would also like to thank everyone for their warm wishes."
Around 1:00 p.m. EST, Kate Middleton and Prince William walked out onto the steps of the Lindo Wing at St. Mary's hospital, holding their newborn and waving to cameras. They did not speak to any reporters, nor divulge the name of their son, but fans loved the appearance anyway. The baby was tightly wrapped up in a white blanket, and Kate was rocking a red dress as if she didn't literally just push another human being out of her body a few hours prior.
Twitter was delighted with how beautiful the family looked.
Somehow, in less than 12 hours, Middleton went into labor, welcomed her new son, said "Hi" to her babies Prince George and Princess Charlotte, put on some heels, waved to reporters, probably took a nap (making assumptions here) and made moves to return to her literal palace.
All in a day's work as royalty.
Fortunately, she and her newborn should be taking it easy from here on out. Even with Middleton's brother-in-law Prince Harry's big impending wedding to Meghan Markle, preparations have been made so that she and her baby are able to relax and enjoy the day. A source told Vanity Fair, "Frankly, Harry and Meghan are just happy that Kate will be there given she will only just have given birth." The source added, "They have told her there is no pressure on her to do anything, they just want her to enjoy the day."
Well, that's kind of them. Something tells me today's festivities will have tuckered them out like whoa. The insider continued, "They [Harry and Meghan] just want Kate to be able to enjoy the day and not worry about anything. Harry has said there's no pressure on her to do anything. They know Kate will have her hands full."
What a wonderful day to be the royal family!
The public has yet to learn what the family will be calling the new prince, but whatever they pick, I'm sure Twitter will adore it. And really, why do anything if it's not to impress Twitter, ya feel me?
CONGRATULATIONS, EVERYONE!
Check out the entire Gen Why series and other videos on Facebook and the Bustle app across Apple TV, Roku, and Amazon Fire TV.