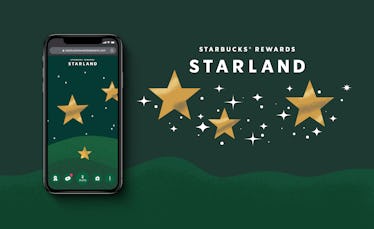 Starbucks Brought Back The Starland Game, & A $500 Gift Card Is Up For Grabs
Starbucks
Starbucks is giving customers a chance to win some seriously awesome prizes. The chain brought back a fan-favorite game on the Starbucks Rewards app, and it's so easy to get your hands on some freebies. If you're ready for free stars and sips, here's how to play Starbucks' Starland game.
If you missed out on the prizes from the first round of Starland in the spring, you can try your hand again at playing the fun augmented reality (AR) game. Starbucks launched the second run of Starland on Monday, Sept. 28 in honor of "Star Week," and it's available for Starbucks Rewards members in the United States to play online and in the Starbucks app through Wednesday, Oct. 28 at 11:59 p.m. PT. Starland offers players the chance to win over 2.5 million prizes, including Instant Win prizes, free handcrafted drinks for a year, and a $500 Starbucks gift card.
To play the game, you need to have a Starbucks Rewards account. If you don't have one, you can sign up to get access to the game and start earning rewards Stars for free. Check for a Starbucks email with the link or open your app to your messages to start playing Starland. Once you've found the game, you'll have one free play. Enable your phone's camera for the AR function. Then, you'll search with your camera for gold stars. To select which star you want, tap it, and wait to see your prize.
You'll receive one free play a day, with the ability to earn another play, for up to two plays per day. You can earn plays when you purchase Starbucks items with your registered Starbucks Card or order through the Starbucks app with your Rewards account. Your prize will either be a raffle ticket to enter toward a grand prize, or an instant win prize, like free coffee or bonus stars. When you head to Starbucks, make sure to follow the chain's coronavirus safety guidance which includes using the Starbucks app to order ahead, as well as safety measures from Centers for Disease Control and Prevention (CDC). As of Sept. 11, those include staying home when you're sick, wearing a face mask over your nose and mouth, keeping your distance from others, and sanitizing your hands after handling packaging.
If you'd like to enter without making a purchase, you can do so by clicking the link at the bottom of the game play page and filling out a short form with your contact information.
When you win raffle tickets, you can select the "Raffle" tab in the game and enter to win prizes such as free drinks for a year, triple stars for a year, free drinks and breakfast for six months, 15,000 Stars, or a $500 Starbucks gift card. The official rules say the grand prize raffle winners will be randomly selected from the prize pool on or around Thursday, Oct. 29, so start playing for your chance at some freebies.
If you think you're showing symptoms of coronavirus, which include fever, shortness of breath, and cough, call your doctor before going to get tested. If you're anxious about the virus's spread in your community, visit the CDC for up-to-date information and resources, or seek out mental health support. You can find all Elite Daily's coverage of coronavirus here.
This article was originally published on