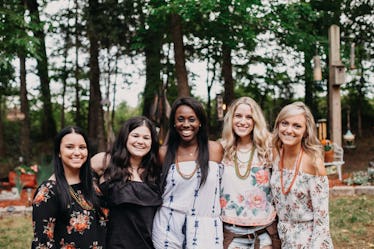 Yes, A Wedding Hashtag Expert Is A Real Job — Here Are Her Top Tips For Choosing One
If you're newly engaged, congratulations! It's time to roll up your sleeves, stock up on caffeine, and start with the wedding planning. In the early stages, along with who's going to make the cut for your guest list, you might be wondering how to pick a wedding hashtag. Everyone loves a good Instagram flex or even just a really solid Facebook album to reminisce on. By adding a wedding hashtag to the mix, you and all of your loved ones will have this big, beautiful, collective, digital memory of your special day to look back on. It's a fun (and free!) perfect touch to your wedding experience.
Jennifer Spector, director of brand for wedding-planning site Zola, has found wedding hashtags to be incredibly popular in her line of work. "In a recent survey we did, 61 percent of couples told us they planned to have a hashtag," Spector says. It's also the most popular topic in Zola's Facebook community and the first topic someone will ask for help with. Spector says, "If possible, I recommend sharing your wedding hashtag with your first wedding-related post so you can catalog your whole journey in one place." Still, it's never too late for a wedding hashtag to blossom. "There's nothing wrong with coming up with a hashtag at any time during your wedding planning process —even the day of your wedding — if inspiration hits," Spector explains.
So, sit back, relax and get those creative juices flowing. Here's what to keep in mind when creating with your wedding hashtag.