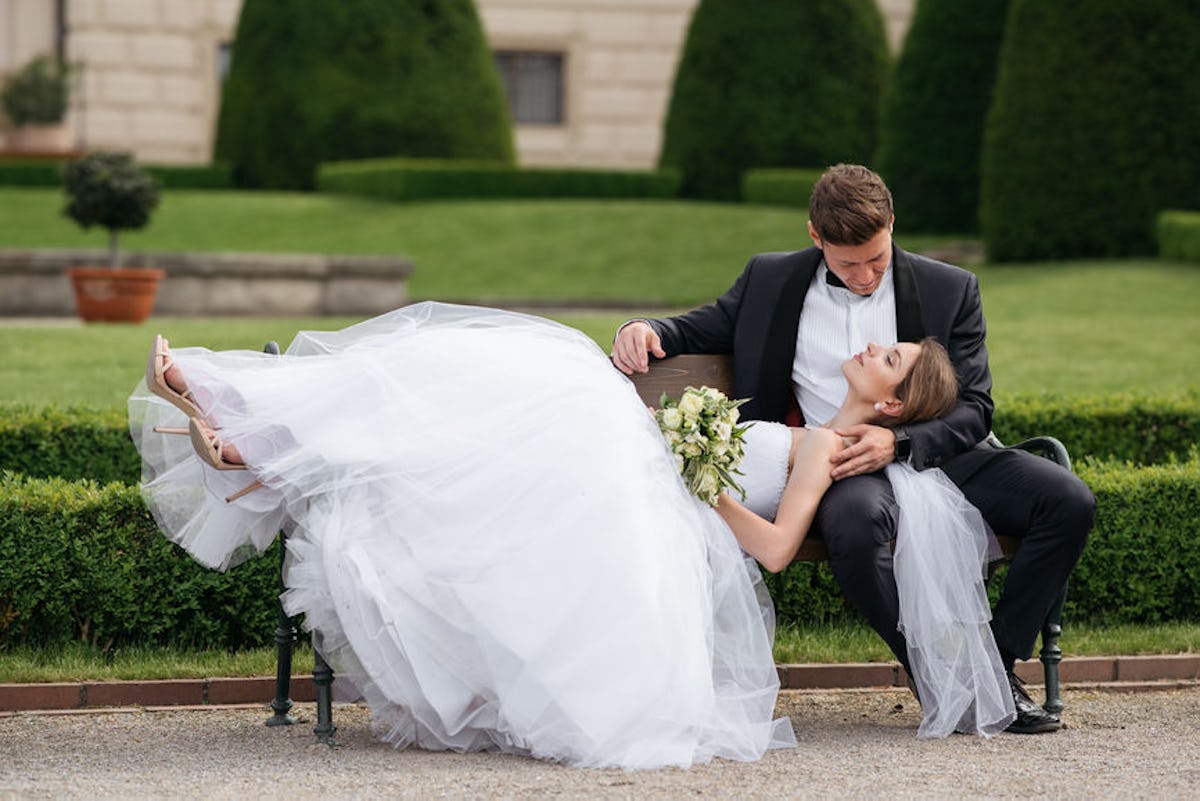 25 Instagram Captions For Every Bride's Big Day That You'll Say "I Do" To
Here comes the bride, and if that happens to be you, congrats! You're about to be a wifey, and you'll undoubtedly want to capture every single moment before, during, and after you meet the love your life at the altar. When your special day comes to a close, you'll want to document those memories first-hand on your Instagram. From getting ready with your bridesmaids and snapping selfies in the limo, to posing for a pic cutting the cake with the love of your life, those wedding captions for the bride will make your pics glow even more.
What better way to keep track of your big day than by taking matters into your own hands? Sure, you have a photographer for the times when you're too busy locking eyes and lips with your forever person, but what about your own account? Each part of your big day is special, and you as the bride are going to remember it differently than everyone else.
Get those pics as you practice your vows, when you're having one last chat with your bride tribe, or as you get your makeup done. Your selfie game is going to be so on point regardless, because that almost married filter is blessing you from head to toe, even before you put your dress on. You're going to have a lot on your plate during your big day, but any of these 25 captions have you covered.
1. "On the road to Mrs." — Unknown
2. "Every bride is beautiful. It's like newborn babies or puppies. They can't help it." ― Emme Rollins
3. "The party don't start until the bride walks in." — Unknown
4. "Me, myself, and I do." — Unknown
5. "Time to really put a ring to it." — Unknown
6. "Love is in the air." — Unknown
7. "I can't wait to be your wife forever." — Unknown
8. "Does this dress make me look like a Mrs?" — Unknown
9. "It takes a village, and that's why I've got a bride tribe." — Unknown
10. "I'm the bride. I don't need a filter." — Unknown
11. "I'm in full-on fairy tale mode." — Unknown
12. "Current mood: Remembering my lines." — Unknown
13. "I can't wait to spend forever with you." — Unknown
14. "Here's to love and laughter and happily ever after." — Unknown
15. "Bride: A woman with a fine prospect of happiness behind her." — Ambrose Bierce
16. "You are what happened when I wished upon a star." — Unknown
17. "He stole my heart so I am planning revenge. I am going to take his last name." — Unknown
18. "Once in a while, right in the middle of an ordinary life, love gives us a fairy tale." — Melissa Brown
19. "I'm a few steps away from my forever." — Unknown
20. "Let me take a picture before the tears set in." — Unknown
21. "This girl is getting hitched." — Unknown
22. "Shining bright like a bride." — Unknown
23. "Ready to be the mac to your cheese forever." — Unknown
24. "Bring on the aisle and the altar!" — Unknown
25. "The bride's here. Where do I check in?" — Unknown