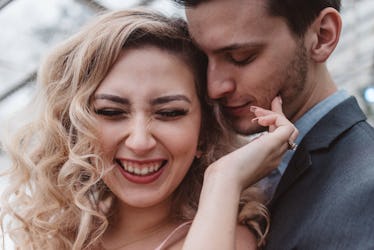 4 Joyful Mantras To Recite After Getting Engaged, Because It's An Exciting Time
Getting engaged is just as much exciting and fun as it is a big step in a relationship. Whether it happens with someone on one knee and a hired photographer hiding behind a bush, or in a super private setting with just you and your partner, saying yes to spending the rest of your life together is one of the best feelings ever. But then comes wedding planning, and that is... less fun (albeit still exciting). Getting engaged is overwhelming for sure, but knowing mantras to recite after getting engaged might be able to help calm your nerves and help you manifest not just a happy engagement, but a happy future.
Reciting mantras is a great way to reaffirm those powerful truths about yourself. After you get engaged, it can be easy to get carried away with creating a thousand different Pinterest boards, creating accounts on every single wedding website there is, and putting together color schemes. Trust me, I've been there. Wedding planning can feel like an endless cycle of stress, high expectations, and unattainable floral arrangements. But at the end of the day, your engagement is about you and your fiancé, so keep these mantras in mind to remind you that you're not just planning a wedding, but really, a happy marriage.