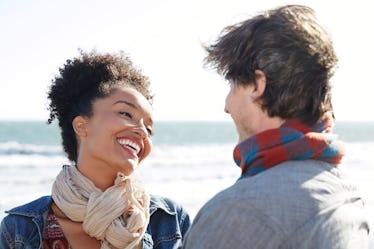 Recite These 5 Mantras Before A First Date To Help Boost Your Confidence
First dates can be really nerve wracking — well, they are to me, anyway. Tell me if this sounds familiar: When you first plan the date, you feel some nerves, but they're the good kind! The "butterflies in your stomach, little spark of excitement" kind. But as the time of the date approaches, those butterflies go full Mothman in your belly and the excitement turns into full-on dread. If that's striking a cord, then it might be helpful to keep in mind some mantras to recite before a first date, to help combat the anxiety and help boost your confidence by totally changing up all your negative self-talk.
The key is to focus on mantras that will remind you of how amazing you really are, that reaffirm your self confidence, and that help you remember that you do have some control over the outcome of the night. Because the calmer and more confident you are, the better the date will likely go. (And even if it doesn't go well, the more you'll be able to just brush it off.) So if you've got a date coming up soon — or hope to — here are a few mantras to help you relax and have some fun.