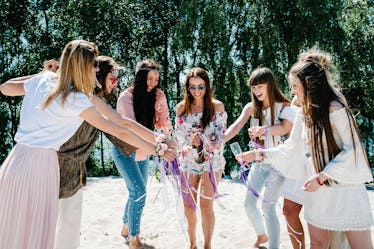 10 Cool Gift Ideas For The Millennial Bride That They'll Actually Use
I'm not married, but after watching my sister tie the knot, I know that one thing's for sure: Newlyweds end up not being able to use some of the gifts they receive at their bridal shower and wedding. Even though the happy couple receives a ton of beautiful (and expensive) presents, a lot of them end up being duplicates or just things that they would never use. As wedding season quickly approaches, you're probably on the hunt for the best gifts for a millennial bridal shower that the couple will actually put to good use (and won't be the same as everyone else's).
You already know that the couple's distant relatives will likely opt for more generic things like appliances, and while those things are useful, there are only so many coffee makers they can receive. You should use this wedding as an opportunity to flex your creative gift-giving muscles, and find something truly special that the bride and couple will value for a long time.
Things like a cocktail making set, gorgeous statement coasters, a cashmere robe, or silk pillowcases are all little luxuries that the newlyweds will be so thankful for. Here are a few creative gift ideas for your millennial friends who are about to tie the knot.