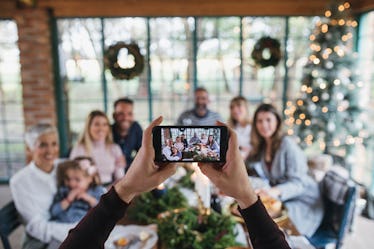 The 1 Thing You Should Let Go Of If You're Stressed About Seeing Family For The Holidays
You know the music that comes on in a horror movie when a murderous sewage monster is about to jump out of a bush? Well, that's what I hear in my head whenever I think about the holiday season. Yes, friends, the stress I associate with the last two celebration-packed months of the year is a feeling that I'm sure you can relate to, regardless of what your family is like or how you guys celebrate. For many of us, it's hard to learn how to let go of the need to be "perfect" during the holiday season, particularly because it's so easy to conjure up visions of what these celebrations "should" look like, and just as simple to be let down by whatever reality has in store for you.
The truth is, no matter how old you are, where you're from, or what you do or don't celebrate, everyone feels a bit of pressure around the holidays, whether it's the stress of how to plan a Thanksgiving dinner, what presents to buy for your distant relatives, or even what to say to your opinionated uncle when he decides to start talking politics at the dessert table.
According to Lindsay Henderson, Psy.D., a psychologist who treats patients virtually via the telehealth app LiveHealth Online, it's totally normal to feel a heightened sense of anxiety or stress this time of year. "Entertaining, social gatherings, and even memories of people who are no longer with us can often trigger feelings of sadness, loneliness, and stress," she tells Elite Daily in an email. "Adding in changes to your everyday routine, travel, a lengthy to-do list, and the potential that you may not be able to spend the holidays with loved ones, can prove to be overwhelming."
Social media can be another big source of stress during the holidays, says Dr. Henderson, because while your family is bickering over who forgot to set the oven timer for the turkey, or grilling you about why you're not married with kids yet, your social feed is likely flooded with nothing more than filtered photos of families spending quality time together and smiling from ear to ear. Of course, the reality is that every family deals with some level of drama around the holiday season; most people just don't document it on social media.
Still, it can be hard to maintain perspective in the face of such high expectations, not to mention accept the idea that nothing in life is "perfect" — not even the holiday season, no matter how much you love it. According to Judy Greenfeld, a spiritual leader and founder of Nachshon Minyan, conquering holiday stress and the need for things to go "perfectly" is all about recognizing the difference between what you can do, and what you want to do.
For example, Greenfeld tells Elite Daily in an email, maybe this year you're worried that if you don't stay for your grandma's entire, five-hour dinner party, everyone will be mad at you. Or perhaps you think you should invite literally everyone you know to your gift exchange so no one feels left out. Maybe you feel guilty that you haven't seen your parents in a long time, or you feel like you should say yes to seeing your old friends after a family dinner party, even though all you really want to do by that time is go to bed.
Many of these worries, says Greenfeld, share three things in common: guilt, FOMO, and what she calls "the should's." The goal here, the spiritual leader tells me, is to first recognize these thoughts, demands, and stressors for what they are, and from there, you can tackle them accordingly. "Name the things that stress you out," Greenfeld explains. "Then you can start knowing how to handle them."
Most importantly, she says, be honest with yourself about what you can handle around the holidays. For instance, Greenfeld tells Elite Daily, if you can't stay at a party for longer than a half hour, that's totally fine. Likewise, if you don't have time to make your signature pumpkin pie this year for Thanksgiving, that's OK, too. "You have to please yourself first," says Greenfeld. "You have to put the oxygen mask over your own face first, like on a plane. If you don't, you get stressed, you get sick, you drink too much, you overeat, you go overboard."
Her main suggestion for letting go of unrealistic holiday expectations? Rewrite them; try to make your intentions around the holidays as basic, simple, and realistic as possible. If you're hosting some of the festivities this year, for example, Greenfeld recommends reminding yourself that it's not about the frosting on the cake being just right, nor is it about everyone having a really great Secret Santa gift.
"The intention is just to give warmth to people and open your heart and home to people," she explains. "Focus on your generosity and loving kindness; focus on your desire to be with others and to bring together community."