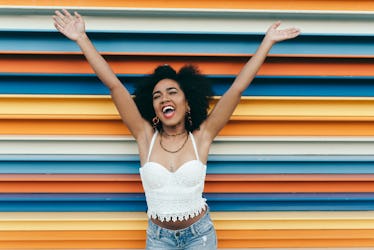 Every Perfectionist Needs These 5 Reminders About Life From Time To Time
Perfectionism is something that almost everyone deals with in one way or another. For some it's about capturing the "perfect" Instagram of their travels, while others constantly stress about doing a "perfect" job at work. Either way, striving for perfection tends to be a fruitless battle, one that causes more stress than satisfaction or reward. But there are ways to cope with these feelings, as well as things perfectionists should know when the expectations of life seem a little too overwhelming.
For one thing, anyone who struggles with perfectionism should know they are most definitely not alone in what they're going through. According to a 2017 analysis published in the academic journal Psychological Bulletin, perfectionism is becoming more common, particularly among young people. What's more, as Business Insider reports, this research has also found an association between perfectionism and mental health issues such as depression. Lead study author Thomas Curran, Ph.D., of the University of Bath, said in a statement,
Meritocracy places a strong need for young people to strive, perform and achieve in modern life. Young people are responding by reporting increasingly unrealistic educational and professional expectations for themselves. As a result, perfectionism is rising among millennials.
He added,
These findings suggest that recent generations of college students have higher expectations of themselves and others than previous generations. Today's young people are competing with each other in order to meet societal pressures to succeed and they feel that perfectionism is necessary in order to feel safe, socially connected and of worth.
Again, everyone deals with the pressures of perfection, of meeting unrealistic expectations, of not feeling like you're "enough" — the whole nine. The best thing you can do in the face of these struggles is acknowledge how they're affecting you, and cultivate an arsenal of tools and strategies that foster a healthy, more rewarding sense of self. If you're a perfectionist, here are five things experts want you to know.