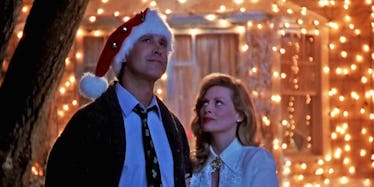 A Luxury Gift Guide For Your Parents That Won't Actually Break The Bank
Warner Bros.
Remember the time you were young, innocent and all you had to do was use your big eyes to escape any mischief you'd caused?
Yup, I'm going to give you a second to remember the good old days before I hit you with the hard truth: You're an adult now.
What's worse, you are no longer exempt from the art of giving back to the most important people who shaped you into the person you are today.
So, what do you get your mother  -- you know, the one who gave you life and not to mention stood by your teenage roller coaster years?
What do you get your father? The man you have admired and respected your entire life?
How do you give them something they'll actually enjoy instead of leaving them thinking, "Oh well, it's the thought that counts..."
Let's face it, they may tell you they want absolutely nothing except your presence during the holidays, but we all know since you're an adult now, coming home empty handed is not exactly an option.
Luckily, I've had plenty of experience with the art of giving. From working with personal shoppers in Monte Carlo to having one of the most difficult families to please, my experience has given me a lot of insight.
I've curated below a luxury gift guide guaranteed to surprise your parents (positively, of course!) and finally give them something they will actually enjoy without breaking your bank account.
For Mom...
1. Beauty Dust
Trust me, I've been there, thinking all your mother needs is a new cookbook, perfume, candles, kitchen equipment or subscription to Netflix where she can watch all the "Gilmore Girls" she wants.
But hey, there's so much more you can gift your mother, and beauty is at the top of the list. Don't get me wrong, EVERY woman is unique and beautiful.
But everyone (who hasn't been living under a rock) knows with the misleading art of photoshopping women, the beauty industry is at the top of its game with cosmetic products promising grandiose anti-aging results. I mean, people actually buy into this marketing stunt.
But what most fail to realize is beauty comes from within. The food we eat as well as our environment all play a vital role in our personal well-being. This is why nutricosmetics are such a growing market right now.
Nutricosmetics do what no cream can do -- and they're perfect for your mom this year.
Look for one with ingredients such as Goji and Pearl, two ingredients that have been used for centuries as beautifying antioxidants.
Plus, most don't cost over $30, in comparison to high-end beauty products guaranteed to cost you more than your monthly salary.
3. HiMirror
Mirror, mirror on the wall, who is the fairest of them all?
We all have mirrors placed in our houses. But what if I told you there's a magic mirror that analyzes your face including wrinkles, fine lines, complexion and dark circles to develop a custom-built skincare routine?
The best part is, this luxurious product has an affordable price tag, too. Looks good as a gift, and better for your wallet.
3. Crystals instead of jewelry
If getting your mother a Chanel necklace or Dior earrings isn't exactly within your budget, look no further than replacing jewelry with crystals.
With crystals for each zodiac sign, you'll have the perfect gift. From headchaines to blessing pendants to precious stones like malas, crystals are the jewelry guaranteed to keep your bank account from drowning.
For Dad...
If there's one thing my father never skips in the morning, it's his coffee.
Now here's something he'll definitely use: a portable espresso maker. For just $60, this little baby can keep anyone awake.
And we all know keeping energized and happy is the ultimate luxury.
If getting your father a day at the spa goes beyond your budget, or you have a dad like mine who has no interest in going to a spa filled with strangers, there's an alternative in the form of a pillow offering everything a spa does, but in the comfort of your own home.
Generally, portable massage items are under $50 -- which is a great price for a happy father and happy bank account.
When it comes to the upcoming year, there's always the same promise everyone makes to themselves: to get strong and healthy.
This is why getting your dad a fitness tracker is a no brainer. I found an alternative to the popular Fitbit products.
Luckily there's now a tracker that attaches to your sweatband or swim cap measuring heart rate along with a build-in voice coach. Because men want to be strong and beautiful, too.
For Both...
Since we all know the holidays are the busiest time of all, there's no shame in not having individual gifts for your mother and father.
But that doesn't mean you can come with nothing to give, right?
When it comes to the holidays, there's always one activity taking place: drinking. And coming from a Russian family, believe me when I tell you that's how an evening of fun is started.
Go beyond wine and champagne, and give your parents a taste of heaven with this liquor.
Probably a good idea to give it before they start asking why you're still single or why you're not a CEO instead of an intern...