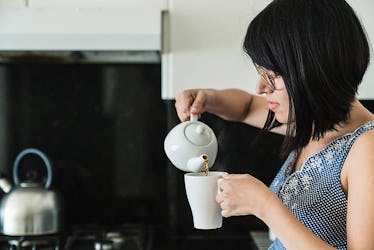 You Can Avoid Catching A Cold This Winter By Doing These 5 Super Simple Things
'Tis the season to be nauseous and filled with sniffles, right? Wintertime means cold and flu season is in full force, and that it's officially time to prepare to keep those cruel, relentless germs at bay. It's not easy to avoid getting sick in the winter; sometimes it just happens, even when you think you're on top of your Purell game. The truth is, skirting a sore throat or a case of the sniffles this time of year really isn't rocket science. It's simply a matter of taking care of yourself.
But, unfortunately, it is true that certain illnesses tend to be more common in the winter, like the flu, according to Healthline, because the "influenza virus is most stable in cool, dry temperatures." And while it's true that "cold doesn't cause illness," the outlet explains, factors like the weather "may weaken your ability to fight off illness." Great.
Here's the thing, though: You can't just quarantine yourself inside your apartment all winter long, which means you can't avoid all the germs at all times. All you can really do is try to stick to some of the below, expert-recommended tips for staying healthy and steering clear of winter colds, flus, and viruses, and simply hope for the best.