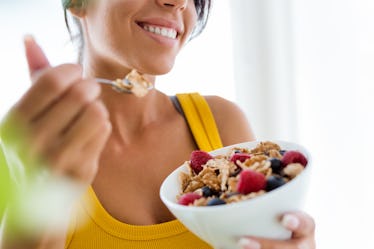 These 9 Foods Are Packed With This One Vitamin To Help You Survive The Rest Of Winter
Shutterstock
You might associate vitamin D with exposure to sunshine, but that doesn't mean you can't find other ways to get that nutrient into your system during those especially gray, dark winter months. There are plenty of foods with vitamin D out there — many of which are probably already in your refrigerator — that will help you stay healthy and satisfied until summer comes around again.
Of course, vitamin D isn't just a great reason to go lay out in the sun; it's an incredibly important nutrient in your body that, according to Healthline, works to fight disease, reduce your likelihood of getting the flu, reduce your risk of depression, boost a healthy weight for your body, and more.
When you don't get enough vitamin D in your body, Healthline reports, it can lead to things like muscle aches and pains, weaker bones, and even stress fractures — not to mention an awful mood, since there's a chance the vitamin deficiency has something to do with you being cooped up inside for long periods of time.
Learning how to absorb vitamin D in multiple ways is a great way to ensure that you always have a high concentration in your system, regardless of the season. Here are nine types of food that are filled with vitamin D to keep you healthy and happy, even in the darkest winter months.