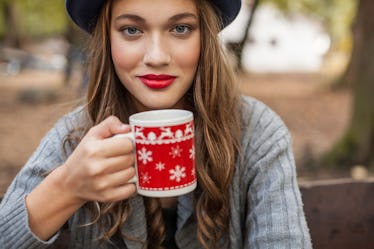 Experts Reveal The 7 Best Tips To Help You Avoid Getting Sick During The Holidays
Mosuno, Stocksy
The holiday season is near, which means happiness, cheer, and hacking up a lung or two are definitely in your near future because, in all these super intimate tidings of comfort and joy, family and friends tend to lose all concept of personal space. Not to be a total Grinch, but germs are a little too close for comfort around the holiday season, and all I'm saying is, it just takes one hello kiss, goodbye embrace, or passing of a plate someone touched with dirty fingers to catch a cold. So in order to avoid getting sick during the holidays, precautionary measures need to be taken, even if that means potentially offending a relative or two in the process.
It's basically common knowledge that the most wonderful time of the year is also the most germ-infested, so don't take this as me just being a paranoid Polly over here. In fact, according to Ramona Roof, director of marketing at CleanWell, there are a lot of reasons why sickness is so common this time of year. Virus-carrying relatives and coming in contact with crowds of people while traveling and shopping for gifts at the mall is definitely a large part of the problem, but Roof also points out the hard truth: Self-care often comes second to holiday celebrations.
"We stray from our good habit routine of eating well, exercising, and getting enough sleep [during the holidays]," Roof tells Elite Daily. "The holidays present many opportunities to stay out late, skip the gym, and overindulge, not to mention the added stress that comes from a busier schedule and travel." This sudden change in your routine, Roof explains, can throw off your immune system, therefore making you, and those around you, more susceptible to catching and sharing viruses.
Need I remind you that the holiday season only comes around once a year? Chances are, if you catch any sort of bug, be it a nasty stomach virus, stubborn cold, or worse, the flu, the most wonderful time of the year is bound to be anything but. Ergo, air-hug, blow kisses, lather up the Purell instantly after enduring one of Uncle Joe's handshakes — do whatever you have to in order to stay healthy, because the less germs that are lingering in the air, the better.