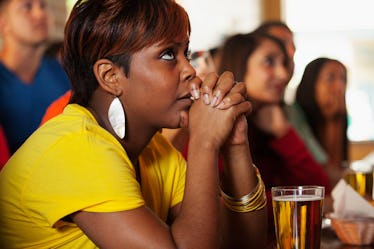 Here's How To Avoid Getting Sick After The Super Bowl So You Don't Call Out On Monday
It's that time of year again, sports fans. The Super Bowl is coming this Sunday, Feb. 3, and you know what that means: screaming at the TV with your friends while wearing jerseys that don't fit well, drinking lots of cheap beer, and eating an unconscionable amount of 17-layer taco dip. It's not necessarily the "healthiest" way to prepare for the week ahead, but it only happens once a year, right? That being said, it might be worth figuring out how to avoid getting sick after the Super Bowl so you don't have to stay in bed for a few days after the big night.
BTW, it really isn't a made-up phenomenon that people tend to skip work or school the Monday after the Super Bowl. A 2018 survey done by The Workforce Institute at Kronos Incorporated and Mucinex showed that an estimated 13.9 million Americans call out sick on Monday after the Super Bowl. That's a nice chunk of the workforce, wouldn't you say?
Joyce Maroney, executive director at The Workforce Institute at Kronos Incorporated, said in a statement for the survey's press release,
We've been researching the big game's effect on the workforce for more than a decade, and while numbers may fluctuate each year, one clear fact remains: #SuperSickMonday is often the biggest day in America for calling out of work.
But hey, the world doesn't stop just because you caught a cold after Uncle Phil sneezed on the peanuts, or you had one too many beers when your team won. So, if you want to wake up ready to tackle the week, take a hint from some of the below experts, who can help you keep your well-being on track while you have a blast watching the game.