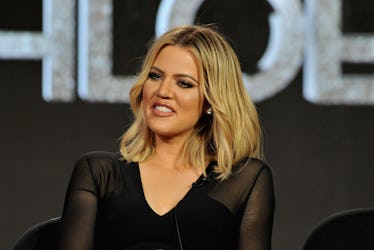 Khloé's Family Is Reportedly Giving Tristan A Hard Time, But They're Just Joking
Jerod Harris/Getty Images Entertainment/Getty Images
If there's one guarantee in life, it's that the Kar/Jenner clan is gonna ride for each other until the wheels fall off. Lately, the famous family has focused their energy on Khloé Kardashian in the wake of her boyfriend Tristan Thompson's reported infidelity, but it's still gonna be a long road to recovery. Here's how the Kardashians are treating Tristan Thompson so far, according to a new report.
Kardashian and her beau are finally back in Los Angeles after relocating from Cleveland following the 2017-2018 NBA season. It's the first time the baller has been reunited with his girl's family since his explosive cheating scandal that rocked the world on April 10, in which Thompson was seemingly shown making out with multiple women during Kardashian's pregnancy in videos shared by both The Daily Mail and TMZ. Elite Daily reached out to Kardashian and Thompson's teams at the time for comment on the reports, but did not hear back.
Needless to say, there were speculations that Thompson would encounter the wrath of Kardashian's close-knit family upon his arrival back to the west coast — however, a source told People on June 29 that things (surprisingly) haven't been too tense between them.
"He is spending time with her family," the insider explained, adding that the family "[has] jokingly been giving him a bit of a hard time. Like, 'we are watching you!'"
"But otherwise, everyone is being respectful and focusing on catching up with Khloé," the source continued. "Khloé is so happy being a mom. Everyone just wants her to stay in this happy bubble for as long as possible." Elite Daily reached out to Kardashian and Thompson's teams for comment on the source's claim that the family is joking around with him, but has not heard back by the time of publication.
This is the kind of growth I aspire to be on in 2018, folks. Things have just been so chaotic between Thompson and the Kardashian family, whether it was Rob reportedly refusing to get over the scandal or Kim criticizing Thompson on Ellen DeGeneres — which ultimately led to him blocking her on social media, if I might add. So seeing them get to this place of forgiveness where they can even joke about the circumstances feels good.
Speaking of Kim getting blocked by Thompson, the two also joked about their fight on June 27 during Kardashian's 34th birthday party, which the KKW Beauty mogul shared online, and it's pretty encouraging.
Kim posted a video of her and Thompson sitting together on a sofa during the festivities, asking, "Alright guys, so, what do you think? It's Khloé's birthday, do you think I should ask this guy to unblock me?" Kardashian, Thompson, and others in the background can be heard giggling at the question until the baller finally responded, "For Khloé's birthday, I think it's only right." Kim then shared a video showing him unblocking her, to which she exclaims, "I'm unblocked guys!"
Clearly, laughter is the best medicine after all.
But while I'd like to think that everyone was able to get on the same accord out of pure maturity and respect for each other, I'm gonna guess it had a lot to do with Kardashian matriarch and mediator Kris Jenner. Jenner is no stranger to having to diffuse tough situations, especially when it comes to her family, and considering how open she's been about the scandal, she could've been the most instrumental in helping everyone else get over it.
For instance, Jenner opened up about her stance on the relationship to outlets on June 8, saying, "I think you just have to be there for your kid and follow their lead. I'm not in that relationship or in that situation, so I really trust Khloé. She's so smart, and such a great girl, and she'll figure it out."
TBH, Kardashian is an adult, and giving her the space to make her own decisions truly seems like one of the best things ever.
It looks like its paid off, too. Heck, the Kardashians' relationship with Thompson could even be on its way to becoming the best it's ever been.