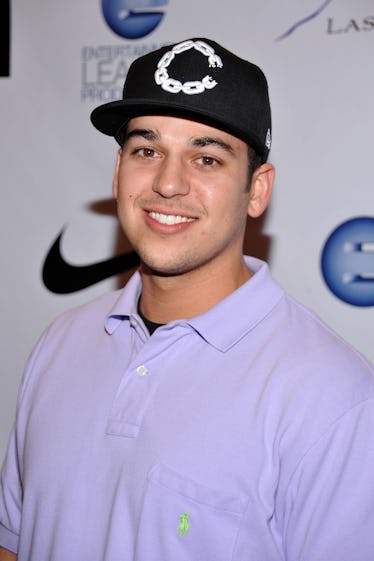 Rob Kardashian Is Still Mad At Tristan Thompson For Hurting Khloé, Report Says
Kristian Dowling/Getty Images Entertainment/Getty Images
Tristan Thompson may be back in good graces with Khloé Kardashian, but there's one person who still isn't feeling the NBA baller: her little brother, Rob Kardashian. According to reports, Rob Kardashian is still mad at Tristan Thompson for allegedly cheating on his sister, and TBH, I can't really say I blame him. Sorry, Tristan.
On May 12, TMZ reported that Rob Kardashian believes his sister "can and should do better" after Thompson's recent reported cheating scandal, in which he reportedly stepped out on his then-pregnant girlfriend with five different women throughout their relationship. According to the site, Rob thinks Thompson is an "assh*le" for hurting and publicly embarrassing his sister — and even though other family members have chosen to let Khloé decide the fate of her relationship for herself, Rob will never be able to get past Thompson's alleged cheating. The report makes Rob one of the latest members of the famous family to express their reported disdain for the basketball star, which shows that this family feud may be far from over.
Elite Daily reached out to Rob Kardashian and Tristan Thompson's teams for comment on the feud, and has not heard back by the time of publication.
Kardashian isn't alone in his outrage, though. On April 30, Kim Kardashian also made her feelings about Thompson's reported cheating scandal crystal clear during a visit to The Ellen Degeneres Show. "Poor Khloé," the KKW beauty mogul told the TV host. "Like, I don't even know how to describe it besides it's so f*cked up. We really were rooting for Khloé and we still are. You know she's so strong and she's doing the best she can. It's a really sad situation all over."
In addition to Kim's fury, on April 17, a source told People that Kanye West is also upset with the Cleveland Cavaliers baller and believes Thompson's reported behavior was "disgusting." The source reportedly said, "[Kim and Kanye] both feel Khloé has gone through so much and that she deserves being happy," said the source. "They can't believe that Tristan has been going behind everyone's back. They find his behavior disgusting."
"Kim is very protective of Khloé and is especially upset," the source continued. "She can't imagine Khloé will stay with Tristan, but will support her sister either way."
I'm right there with you, Kim and Kanye.
Thompson's alleged cheating was first exposed when The Daily Mail and TMZ published videos that seemingly showed Thompson making out with multiple women just days before Khloé gave birth to their daughter, True. Elite Daily reached out to Kardashian and Thompson's teams at the time for comment on the alleged affair, but did not hear back by the time of publication.
However, shortly after the affair hit headlines, Khloé was already open to the possibility of working things out with her beau — despite the pleas from her family and even KUWTK fans. A source told People:
Khloé really wants to be able to forgive and trust Tristan again and have the life she hoped to have with him. She doesn't know if she'll be able to do that, but that's the goal. She loves the life they had, she loves the baby they have together, and she still loves the dream of being a family together. If she can find a way to rebuild with Tristan, she will.
It's only human for families to endure struggles every once and a while, so hopefully — for the sake of Khloé and what makes her happy — her siblings can get back on board with Thompson soon. (I don't know if I'll be holding my breath, though.)