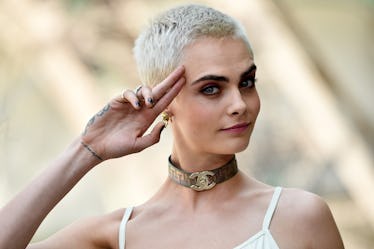 Here's Everyone Cara Delevingne Has Ever Dated, & Honestly, She Has Great Taste
Pascal Le Segretain/Getty Images Entertainment/Getty Images
When I first watched Quentin Jacobsen fall in love with Margo Roth Spiegelman in Paper Towns, I was immediately taken by Cara Delevingne. First came my initial awe about her character, then came the instant curiosity about Delevingne in general, followed by the need to know everything about this kick*ss, no BS, gal. And in my sleuthing to get to know everything there is to know about the double-threat actress and model, I began to wonder about everyone Cara Delevingne has ever dated. TBH it's a pretty solid list. From Michelle Rodriguez, to Harry Styles, to Miley Cyrus, and now, her rumored relationship with Ashley Benson, Delevingne must have some serious game.
Delevingne has been speaking up about her sexuality for years now, and continues to remain open about it. She elaborated on the subject in an interview with Glamour last year. "Once I spoke about my sexual fluidity, people were like, 'So, you're gay.' And I'm like, 'No, I'm not gay,'" she told the magazine. She continued, "A lot of the friends I have who are straight have such an old way of thinking. It's, 'So you're just gay, right?' [They] don't understand it. [If] I'm like, 'Oh, I really like this guy,' [they're like], 'But you're gay.' I'm like, 'No, you're so annoying!'…. Someone is in a relationship with a girl one minute, or a boy is in a relationship with a boy, I don't want them to be pigeonholed." And they totally shouldn't be.
Here's a further look at Delevingne's iconic past (and maybe present?) relationships. Elite Daily reached out to Delevingne's team for confirmation on her rumored relationships, but did not hear back by the time of publication.