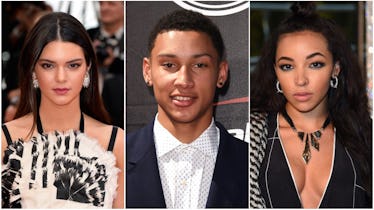 Here's Everyone Ben Simmons Has Dated, Because I Know You're Curious
Pascal Le Segretain/Jason Merritt/Larry Busacca/Getty Images Entertainment/Getty Images
Even though Kendall Jenner and Ben Simmons are very cryptic about their personal lives, it's pretty obvious that there's something going on between them. While neither has confirmed their relationship status, it doesn't take a genius to realize that their probably an item by now. Elite Daily reached out to Jenner and Simmons' teams previously for comment on their relationship status, but did not hear back by the time of publication. We know our girl Kendall very well (reality television will do that to you), but what about this Ben Simmons guy? Sure, we know he's an NBA player, but what about his past relationships? Well, folks, I did a bit of digging, and here's everyone Ben Simmons has dated — because friends don't let friends date people they haven't done a full background check on.
But before we get into Simmons' dating history, let's just have a nice quick chat about him and Kendall Jenner. These two have been rather up in the air with their status, but according to E! News, Kendall Jenner and Ben Simmons have been making an effort in their relationship. "Kendall and Ben have been making more of an effort in their relationship recently," E! News' source said, adding that they "have been seeing each other regularly for the last month now. They both are very busy with their careers, but have always been in touch."
The pair has reportedly been seeing each other since May, but it's never been fully confirmed that they're exclusive. I guess being a famous model and a sports star sort of gets in the way of things, sometimes, huh?
Without further adieu, I present to you Ben Simmons' dating history.
Dylan Gonzalez: June - November 2017
Though they're relationship was brief, Ben Simmons was linked to former women's basketball player Dylan Gonzalez from June to November 2017. There's not much dirt to dig up on these two, unfortunately, but it seems that the pair just sort of fizzled out. These days it looks like Gonzalez is a rapper and an Instagram model, and if you take one look at her account, you'll see why:
Ummmm, GORGEOUS!
This is the point in the article where I'd use the fire emoji over and over again.
Sadly, Simmons and Gonzalez couldn't connect past their love of basketball, though, and their romance was officially cooled off before the end of 2017.
Tinashe: March 2018 - May 2018
Oh boy, the timeline of this relationship is a real head-scratcher. The beginning, the ending — it's a bit all over the place, so hang in there with me. Simmons and singer Tinashe sparked dating rumors back in February 2018, but seemingly confirmed their relationship in March by taking to Instagram with matching posts (but different captions) of the pair looking all cuddly together.
While Simmons' post is now deleted, his caption read, "This is a dime I can't pass," but Tinashe's post is still available, with a simple smiley face as her caption:
Things looked good, but it was only a few months until the pair split at the end of May. But here's the thing: around the same exact time that these two announced their split, rumors started swirling that Simmons and Keeping Up With The Kardashian star Kendall Jenner had been dating "for a few weeks," according to a report from Page Six.
So not only is the beginning of Tinashe's relationship with Ben Simmons sort of blurry, the downfall of it is equally as confusing. Which, of course, leads us to present day...
Kendall Jenner: May 2018 - Present
Whether or not Simmons was still dating Tinashe when he started something up with Kendall Jenner will probably always remain a mystery. There was some ~drama~ when Tinashe reportedly following Simmons and Jenner and when she claimed that her and Ben Simmons were still texting once he started things up with Jenner, but we're not here to talk about that, OK? OK. Elite Daily reached out to Simmons and Tinashe's teams previously for comment on their relationship, but did not hear back by the time of publication.
According to Page Six, Jenner and Simmons were officially dating by the end of May, and multiple sources claimed the pair were seeing each other "for a few weeks." Elite Daily reached out to both Simmons' and Jenner's team for comment on their relationship, but did not hear back by the time of publication.
Since then, they've been spotted out and about together — like at the Waldorf Astoria hotel pool in Beverly Hills in July 2018, where a source told Entertainment Tonight that "Kendall and Ben were getting cozy in the hot tub. They snuggled up and looked happy together!" Elite Daily reached out to Jenner and Simmons' teams for comment, but did not hear back by the time of publication.
And even though, at one point or another, it looked like the two were taking some time apart, it seems like they're back on track considering she's been seen attending Simmons' basketball games. Remember the time Jenner jokingly booed Tristan Thompson on Nov. 23, when the Cleveland Cavaliers played against Simmons' Philly 76ers?
And just a little FYI, Jenner and Simmons were later photographed after the game dining together at a French bistro in Philadelphia, so let's just call a spade a spade, people. These two might not label their relationship, but they don't have to! We see you, Kendall and Ben!
So there you have it, folks. Hopefully, you've learned a little more about Ben Simmons today — and maybe even a little bit about yourself.
I know it doesn't make sense. It just sounded right. Let me live!