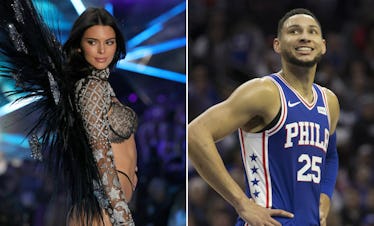 Khloé K May Have Accidentally Just Confirmed That Kendall Jenner Is Dating Ben Simmons Again
Thomas Concordia/Getty Images Entertainment/Getty Images & Mitchell Leff/Getty Images Sport/Getty Images
There's been so much going on this season of Keeping Up With The Kardashians, fans are just trying to hang on. Folks are watching as the fall out from Tristan Thompson's reported cheating scandal plays out on television and everyone's babies grow up before our eyes. Low key, Kendall Jenner is still hanging out in the wings being a supermodel and skydiving out of planes with Scott Disick. Now, thanks to a new tweet from big sis Khloé, fans are asking the question, "Are Kendall Jenner and Ben Simmons dating again?" By the looks of it... yes! Elite Daily reached out to both Simmons and Jenner's teams for further comment on the status of their relationship but did not hear back by the time of publication.
Simmons and Jenner were first linked together during summer 2018. They spent Memorial Day and the 4th of July together, vacationed in Mexico with Khloé and Thompson, and reportedly rented a $25,000 a month home in West Hollywood. Still, Jenner was always super casual about their status and many sources reported she remained laissez-faire about her and Simmons future. Come August, one insider told US Weekly their relationship was "fizzling."
"Kendall and Ben's relationship is fizzling and dissipating due to scheduling conflicts," the source said. "Kendall is so busy and has so much going on and doesn't want to wait around for anyone. She knows there's always a hot new fling waiting around the corner for her."
Ok, well, tell that to the new video of Jenner sitting court-side at Simmons' recent basketball game against Khloé's man, Thompson. Simmons' team, the Philadelphia 76ers, were up against Thompson's team, the Cleveland Cavaliers, on Friday, Nov. 23 — the day after Thanksgiving. During the game, Thompson was shooting a free throw right in front of Jenner who appeared to playfully "boo" her sister's man.
Khloé loved the video and even retweeted it writing, "Look at my baby heckler. I'm dying at Kenny trying to heckle on the low low! #ItDidntWork." Ultimately, the Cavs won 121 to 112.
While the interaction definitely appears to be in good fun, some fans took Jenner's actions very literally and circled the whole exchange back to Thompson cheating on Khloé. One fan tweeted that they were "confused" by Khloé's tweet approving of her sister's booing and wondering about where she and Thompson stand today. This is where Koko jumped in to clear the air, claiming the basketball video was NBD and that Jenner was just there supporting "her man." Khloé wrote:
What he [Tristan] did was f*cked up and disgusting. What you're watching is over seven months old. We have gone through countless hours of help. My sister was watching HER man Play against my man… So of course she's going to heckle the opposing team. Why are you confused?
You heard it here, folks. If that doesn't set the record straight on a lot of things (including Simmons and Jenner's relationship status) then I don't know what else could. Plus, Jenner and Simmons were later photographed at a French bistro in Philadelphia after the game.
So... Happy Thanksgiving, everyone. I guess?