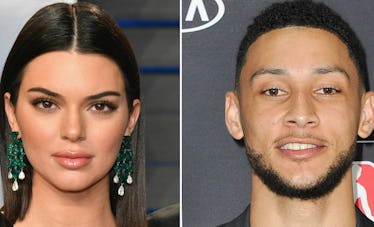 Kendall Jenner & Ben Simmons' Relationship Has Reportedly Changed In A Very Confusing Way
DIA DIPASUPIL/ALLEN BEREZOVSKY/GETTY IMAGES
Is there anything better than a summer fling? It's hot, it's steamy, and it's basically over once September rolls around. Because when the weather starts to cool off, it's only a matter of time before those beach blanket hookups start to follow suit. There's just something about the sea and the sun and the sand that seems to draw people together without the pressures of maintaining a legit relationship through all four seasons, you know? I mean, you've never heard of a winter fling, have you? So now I have to wonder: Are Kendall Jenner and Ben Simmons still together? Because it was right around Memorial Day weekend when the rumors first started swirling that the Philadelphia 76er and Keeping Up With The Kardashians star were a thing, so as much as I'm into this pairing, it's only fitting that the duo would be dunzo by Labor Day — right?
Well, according to E! the Bendall relationship has, in fact, pretty much run its course. Sadly, a source reportedly told the news outlet that things have "cooled off" between the pair, and while Jenner and Simmons are still in contact and texting each other, the runway queen "has been spending time with other people." Elite Daily reached out to Jenner and Simmons' teams for comment on this report, but did not hear back by the time of publication.
"She always wanted to keep her options open," the source said. "She likes Ben but she knew it was more of a summer fling. They both have busy careers and it is what it is. She had fun with Ben, but wasn't ever fully committed or looking for a long-term, exclusive relationship."
Dayum, girl!
"Kendall is so busy and has so much going on and doesn't want to wait around for anyone," another source reportedly told Us Weekly. "She knows there's always a hot new fling waiting around the corner for her."
Must be nice, Kenny. Must be nice.
Of course, we probs should have seen this coming a mile away. I mean, despite all their July 4th pool party canoodling, their vacay in Puerto Vallarta, Mexico with Khloé and Tristan just a few weeks ago, and the fact that they rented a $25,000-a-month home together in West Hollywood for the summer, Kendall never really seemed to be all in.
Case in point: Check out this video of the pair out celebrating Ben's birthday on July 20.
Is it just me, or does it look like Kendall keeps trying to move out of the frame? It's not just me, right?
Meanwhile, during that same month, a source told Us Weekly that Ken and Ben were "dating and exclusive, though not official." And, like, what does that even mean? Were they dating? Yes. Where they exclusive? Yes. So doesn't that make it official? Apparently not. And apparently, that's just the way Kendall wanted it.
"Her work and travel schedule is pretty insane so for her to commit to anyone at this point in time isn't necessarily realistic," the source said. "She's being young and having fun. She's just living life with no commitments."
And now, sadly, it seems like she'll just be living life without Ben. Such a bummer, because I did really like these two together. But mad props to Kenny for somehow realizing from the beginning that a summer fling don't mean a thing, and eventually it would be time to move on.
Such a bad*ss!