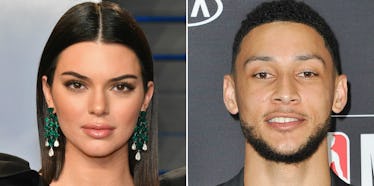 Kendall Jenner & Ben Simmons Went On A Cute AF Pool Date, So Things Are Looking Good
Dia Dipasupil/Allen Berezovsky/Getty Images
Kendall Jenner and Ben Simmons aren't really into having a lot of media attention surrounding their relationship. While they're not in a full-on relationship yet, sources close to the couple say they're exclusive and enjoying their time together, but are simultaneously trying to keep things chill and relaxed. That's in part because of Jenner's intense work schedule, but also because they're not looking for a lot of attention. They did go on a pretty public date on July 3, however, so sometimes attention is going to be inevitable. Kendall Jenner and Ben Simmons' pool date on July 3 seems like the most chill date ever, and I'm here for it.
According to Entertainment Tonight, the couple spent the day at the Waldorf Astoria Beverly Hills pool on July 3. I also spent most of July 3 sitting at a pool at a hotel, so just call me Kendall Jenner. The pair, according to sources, has been connected for a couple of months now. Jenner was previously rumored to be casually dating Anwar Hadid (Gigi and Bella Hadid's brother), and she was reportedly previously in a relationship with NBA player Blake Griffin. Sources close to the couple say both Jenner and Simmons have recently gotten out of serious relationships, so right now, they're just looking to take their time with each other. No harm in taking things slow!
As for their pool date, Entertainment Tonight reports that eyewitnesses saw the couple on a ~romantic~ pool date at the Beverly Hills Waldorf Astoria on July 3. "Kendall and Ben were getting cozy in the hot tub," the source told the outlet. "They snuggled up and looked happy together!"
According to Us Weekly, the model and basketball player "are still hanging out quite a bit" and "are pretty inseparable at the moment and are still going really strong." The source did note, however, that the reason the two haven't put an official label on their fling just yet is because of Jenner's all-over-the-place work schedule. "Her work and travel schedule is pretty insane," the source said, "so for her to commit to anyone at this point in time isn't necessarily realistic." Bummer. Maybe things will change and progress for them in the future, but only time will tell.
The two have been seen shopping together, coming in and out of Jenner's reported rental home in Los Angeles, and just spending a lot of time together over the last few months. On June 9, just a few hours before Kanye West's 41st birthday party, Jenner and Simmons were seen getting cozy while shopping. Were they shopping for Ye's birthday gift? No clue. But ya never know. A source told E! News at the time,
Kendall spent the day with Ben Simmons. They went shopping together at Barneys New York in Beverly Hills. They were inside for about an hour. Kendall helped Ben look in the men's department and she stood with him at the register as he made his purchase.
They continued, "She picked up some stuff and he went along with her down to the women's section. They were cute together and casual. They walked with their shoulders touching and were smiling and laughing."
A source recently told Us Weekly that Jenner is "still casually seeing Ben Simmons" and that "she's being young and having fun." They continued, "There's no pretense to anything and no label on her and Ben. She's just living life with no commitments." Things seem super chill and casual between these two. TMZ reported that they might be living together because they've reportedly been seen coming and going from the same house in L.A. a lot recently, but they don't seem to actually be living together — just hanging out a lot. Elite Daily reached out to Jenner and Simmons' teams at the time for comment, but did not hear back by the time of publication.
Jenner has never really been one to post photos of herself with the men she's dating, however, so don't hold your breath for any kind of relationship confirmation from the model.