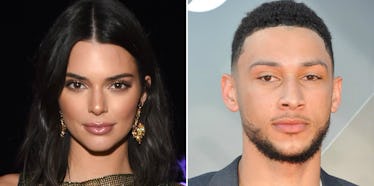 Kendall Jenner & Ben Simmons Might've Taken This Huge Step Forward In Their Relationship
Antony Jones/Getty Images for Chopard/Allen Berezovsky/Getty Images
Kendall Jenner's love life confuses the hell out of me. She's definitely not required to give me updates, but like... I would appreciate some clarification from time to time, girl! The last fans heard of her love life, she was seemingly making out with Anwar Hadid — Gigi and Bella Hadid's brother. But she apparently is in a relationship with NBA player Ben Simmons, and now there are rumors they've taken things to the next level. Are Kendall Jenner and Ben Simmons living together? According to TMZ, they might be. Elite Daily reached out to Jenner and Simmons' teams for comment, but did not hear back by the time of publication.
Jenner and Simmons' relationship hasn't been confirmed yet, but they've reportedly been dating since May. Now, TMZ reports that the two have been seen coming and going from the same house in Los Angeles pretty frequently lately. The outlet notes that it's not clear whose name (or names) is on the lease, but the term of the lease is reportedly several months. TMZ also notes that it's possible Jenner is renting this house while the new home she bought is undergoing some renovations. (She bought Charlie Sheen's former house in Beverly Hills back in October.)
All that said, it's likely that Jenner or Simmons is renting the house for themselves and they're just hanging out there a lot. Both of them being seen coming and going from the house doesn't necessarily mean they're living together (because couples typically go over each other's houses frequently anyway, amirite?), but it is interesting to see them spend so much time together since they have yet to confirm their reported relationship.
Dimitrios Kambouris/Getty Images Entertainment/Getty Images
Allen Berezovsky/Getty Images Entertainment/Getty Images
According to E! News, Jenner and Simmons were seen shopping together the weekend of June 9, just before Kanye West's birthday party. A source told the outlet,
Kendall spent the day with Ben Simmons. They went shopping together at Barneys New York in Beverly Hills. They were inside for about an hour. Kendall helped Ben look in the men's department and she stood with him at the register as he made his purchase.
The source noted they seemed comfortable around each other without showing any PDA. "She picked up some stuff and he went along with her down to the women's section," they said. "They were cute together and casual. They walked with their shoulders touching and were smiling and laughing."
Another source told E! News that the reported couple wasn't looking for any media attention around their new romance, but Kendall Jenner is Kendall Jenner. Media attention is pretty unavoidable for her and her family. "Kendall was hesitant to get media attention about her and Ben hanging out," the source said. "Kendall doesn't want anything serious but is definitely enjoying her time with Ben right now."
Earlier in June, there were rumors that Kendall Jenner and Anwar Hadid were reportedly hooking up. They were seen hanging out with friends in New York and looking flirty. Elite Daily reached out to Jenner and Hadid's teams for comment at the time, but did not hear back by the time of publication. At the time, a source told Entertainment Tonight, "Anwar and Kendall are just having fun for now. Both of them recently got out of relationships, and don't want anything too serious."
Tristan Fewings/Getty Images Entertainment/Getty Images
Theo Wargo/Getty Images Entertainment/Getty Images
They added,
Kendall would never want to do anything to put her relationship with Anwar's sisters in jeopardy. Kendall and Anwar have known each other for years and have always been flirtatious and this is just another sign of that. The two enjoy one another's company and things could change, but for now, it's nothing serious.
It doesn't seem that this flirting turned into anything serious, though. If I had to make my best guess, I'd say Kendall Jenner and Ben Simmons are dating, Jenner is renting the aforementioned house while her new house is undergoing changes, and Simmons hangs out with her there a lot now that basketball season is over. It all seems really chill.